The Fenix UC35 was hands-down my favorite single-battery flashlight, and now they've made it even better with version 2.0. If you're in the market for an extremely powerful flashlight that is slightly larger than a 18650 battery, then this is the one for you. It tops out with an impressive 1,000 lumens, which is brighter than the original version of the dual-battery TK35.
Battery included
Like every other flashlight that I own, this flashlight is powered by the 18650 lithium-ion battery. What's especially nice about this flashlight is that it includes a 3500 mAh battery, which helps to ensure proper performance and runtime.
New battery indicator
One of the new features of this flashlight is the battery charge indicator built into the brightness button. Right when the flashlight first turns on, the indicator will glow green, yellow, or red to let you know how much battery life is left. This is a nice feature, but I'd love it if the indicator light was about twice as bright. It can be difficult to tell in bright light conditions.
USB charging
Like the earlier version of the UC35, the new version has a built-in micro-USB charging port, which I find especially handy. I have those micro-USB charging cables everywhere, so this makes it especially easy for me to charge my flashlight at any time without having to remove the battery. This is a great feature.
Size
The new UC35 is even more compact than the original. Check out the photo below for a comparison.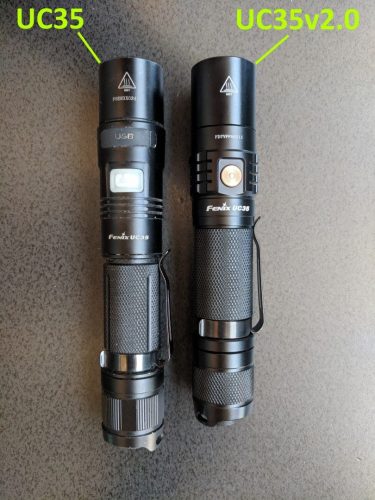 Conclusion
This is an awesome flashlight. While my go-to flashlight is the TK35UE, I've been perfectly happy using the UC35 for home inspections, and I've done several with just the UC35. I keep this flashlight in my truck for any situation where I want a flashlight that will easily slip into my pocket. Also, this flashlight would make an excellent gift under $100 because it comes with a battery and doesn't need an external charger.
Check it out online here: https://amzn.to/3mqYcV1
Author: Reuben Saltzman, Structure Tech Home Inspections