I tested out the brand new Fenix TK35UE 2018 edition flashlight as part of their Global Review campaign, and it's a light cannon. Flashlights are dear to me and I've tried a ton of them, but I haven't found a flashlight that I like more than my original Fenix TK35 flashlight that I got back in 2011. I blogged about that flashlight in my first flashlight post, This Home Inspector's Love Affair with Flashlights.
Fenix updated the TK35 with their TK35 Ultimate Edition, also known as the TK35EU. Now with the 2018 version, they've made it… more ultimate? Yes, let's go with that. This flashlight lives up to its name.
Size and Shape
The size and shape of the 2018 edition are very similar to the previous version of the TK35UE, which is very similar to the original TK35, shown below, left.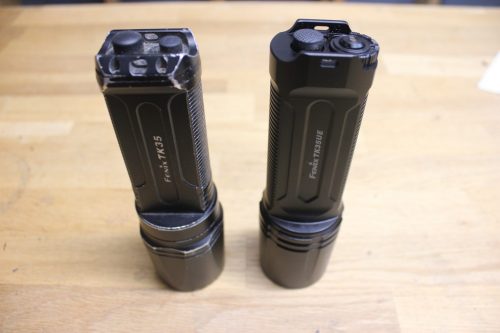 The main physical difference between the TK35 and the UE version is that the UE has a different tailpiece.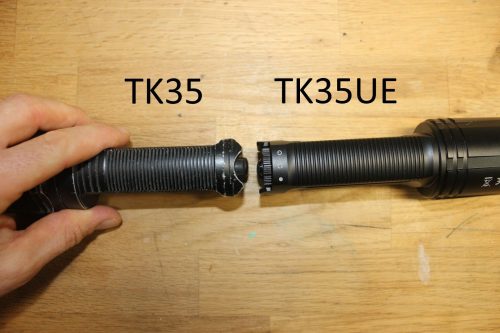 You'll see that the TK35UE doesn't have much of a flare at the end. I guess some people must have requested this change, but I don't like it. I hold my flashlight between my pointer and middle fingers, so the flared end of the TK35 is very helpful. The new version doesn't have much to grip. I might have to do a field modification to make it suit my needs.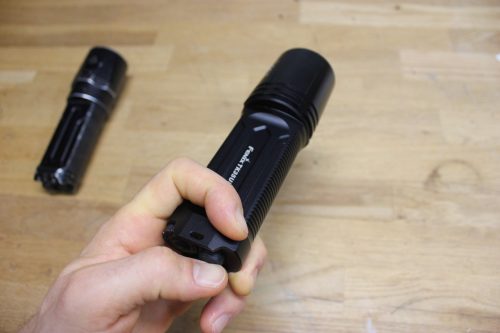 The thing that I love about this new design is that you can set it down with the business end pointing up and it'll balance. Previous versions of the TK35UE couldn't do that.  This is a great improvement.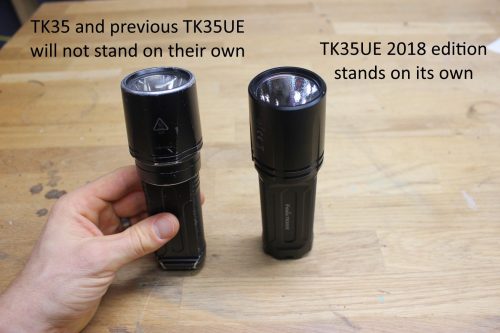 Controls
I appreciate the location of the on/off and brightness controls; they're right next to each other at the tailpiece, where they should be. I've tried other flashlights with one or more controls on the side, and I can't get used to them. I need the controls on the end.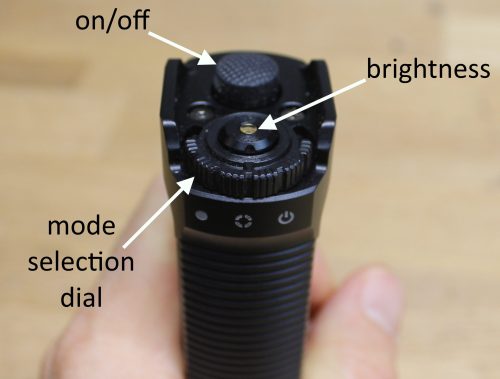 New to the 2018 version of this flashlight is the mode selection dial, which selects between tactical, outdoor, and lockout modes.
The lockout mode simply means "off". If the dial is set to lockout mode, the on/off button will do nothing. This could be a nice feature because I've had a handful of instances where I've inadvertently turned on my flashlight and left it in my vehicle overnight. Believe it or not, the light is usually still shining the next morning, but this always sucks up a huge chunk of my battery life. It's smart to have a lockout. In reality, however, I will never use this. I pull my flashlight out of my pouch, turn it on, look around, then turn it off and put it away dozens of times during every inspection. I will never take the time to use the lockout feature.
The tactical mode sets the flashlight to a fixed 2000 lumen output, making it so the brightness selection button does nothing. It's on at 2000 lumens or off.
The outdoor mode makes the flashlight behave like previous versions; this enables the brightness button. Each push of the brightness button steps up the brightness one level, and the flashlight remembers your previous setting after the light turns off.
I'm not a big fan of the mode selection dial. I carry my flashlight around in my tool pouch, so the mode selection dial gets turned to lockout or tactical mode by itself quite frequently during inspections. I pull my flashlight out, push the on/off button, then nothing happens or it's too bright. Oops, the selection dial was turned. I turn the dial back to the "outdoor" setting and then I can use my flashlight again. This is nothing that can't be easily fixed by The Kragle, however. Just a small annoyance.
Durability
Like every other Fenix flashlight that I own, this flashlight is a tank. I've dropped my previous TK35 flashlight countless times and it just keeps working. This flashlight is drop rated at 1 meter, but I've had my previous flashlights fall off roofs and keep working. Check out my drop test.
It's also waterproof to 2 meters, with an IPX-8 rating. According to Fenix, this means it'll withstand submersion in 2 meters of water for 30 minutes.
Power
This flashlight is powered by the same batteries as every other light that I own; the ubiquitous 18650 lithium-ion batteries. Some of my flashlights use one, some use two. This one takes two. I wouldn't consider purchasing a flashlight that didn't run on these batteries. This is the standard for flashlights today. They're rechargeable and they hold a charge forever.
The fine folks at Fenix sent me two of their best batteries, the Fenix ARB-L18-3500 18650 rechargeable Li-ion batteries. I've only had this flashlight for a few weeks, so I really don't know how long these batteries will last me. With my TK35, I used to recharge my batteries once a week after using my flashlight all day, every day. I'm sure this will be about this same. For flashlight run times on various settings, I'll defer to their published standards, listed below. These standards assume that the flashlight is using the batteries mentioned above.
3200 lumens: 1h 30min
2000 lumens: 2h
1000 lumens: 3h 40min
350 lumens: 10h 50min
100 lumens: 38h 40min
20 lumens:  152 h
The nice new charging feature for this flashlight is the built-in micro-USB charging port on the battery holder.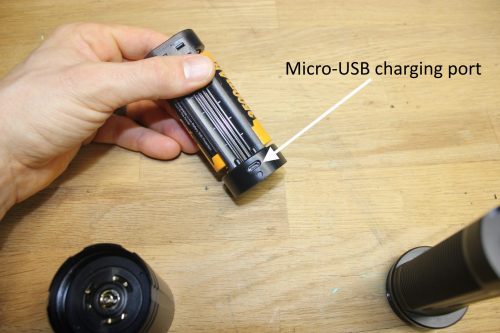 Even more convenient would be a port on the outside of the flashlight, like the type found on the Fenix UC35.
Light output
This is what everyone really cares about; how much light does it put out? This is where the TK35UE literally outshines the competition. The max light output is a stunning 3200 lumens. This is awesome for lighting up the far reaches of dark attic spaces, and for looking down masonry chimney flues to look for missing mortar and cracked flue tiles. In those situations, wimpy lights simply don't cut it.
To compare, I took a bunch of photos of this light pointed at my garage using a Canon EOS Rebel T2i camera with an f-stop of 5.6 and an exposure time of 1/60th of a second for all of these photos. With these camera settings, the TK35UE barely revealed any details at my garage on the lowest light setting, 20 lumens.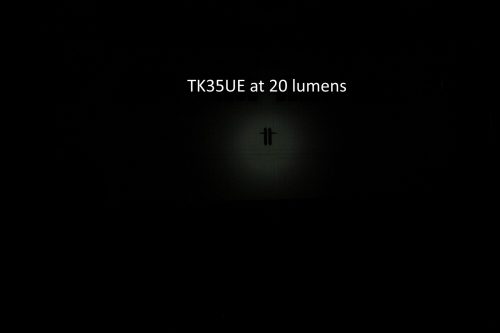 To give these images some perspective, I took a photo with my truck headlights pointed at the garage, shown below.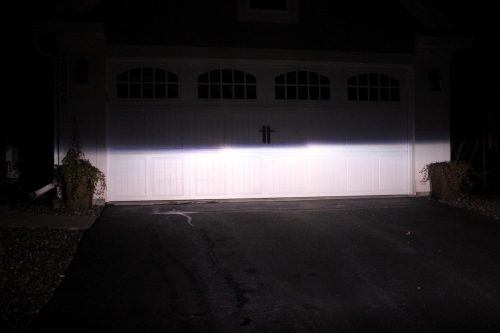 For high-power settings, I compared images on the highest setting between the TK35 and the TK35UE. First, the TK35: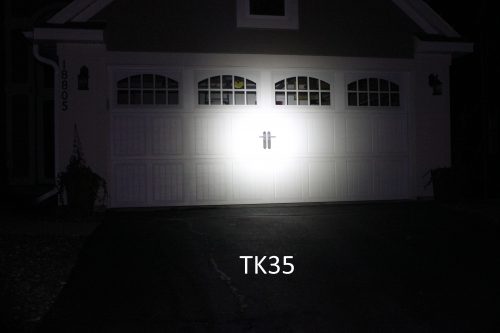 The TK35 is very bright, but check out the TK35UE at the full 3200-lumen setting for ridiculously bright: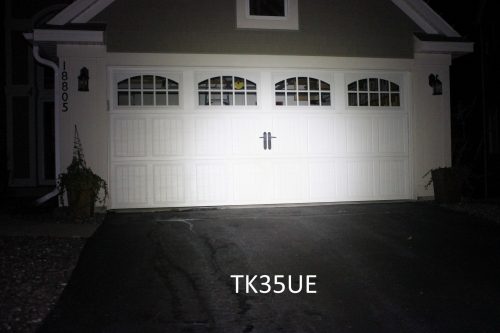 It's hard to comprehend something this small putting out so much light. Here's a side-by-side split-screen comparison between the two: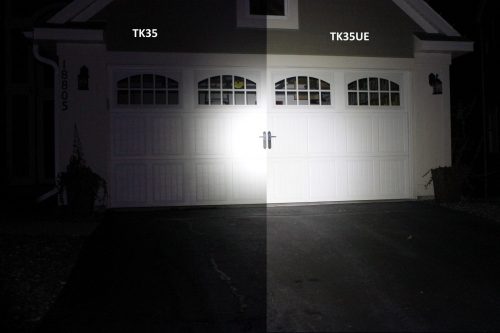 TK35UE Conclusion
This is my new favorite flashlight, and I think this is one of the finest flashlights available for home inspectors. You can expect this flashlight to hit the market in early December.
Update 12/7/17: This flashlight just hit the market https://www.fenixlighting.com/product/tk35ue-fenix-flashlight/
Author: Reuben Saltzman, Structure Tech Home Inspections