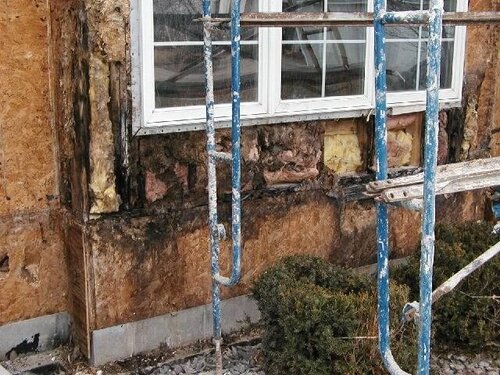 NEWER STUCCO HOMES IN MINNESOTA HAVE HAD A NASTY HISTORY OF FAILURE. SPECIFICALLY, HOMES BUILT SINCE THE 1980S ON UP TO TODAY.
While any type of exterior wall cladding can experience water intrusion, the failures that happen with stucco are far more expensive and usually far more extensive.
The city of Woodbury has an excellent position paper on Stucco houses that should be required reading material for anyone buying a stucco home in Minnesota. This paper was first released in 2003, and has been updated several times, with the latest and final update from 2011. Click here to read it: Stucco in New Residential Construction.
So Woodbury had problems with stucco. Other cities are fine, right? Heck no: this really had nothing to do with Woodbury, they were just the only city that was bold enough to talk about it. They came under heavy fire for putting out a position paper that questioned the viability of stucco, which supposedly lowered the value of existing stucco homes, which made up a significant portion of their housing stock.
The Solution
If you're buying a newer stucco home or you already own one, there are a few ways to determine (or attempt to determine) if there is a moisture problem.
Exterior probe testing. This involves drilling 3/16" holes in stucco at strategic locations and then inserting a moisture probe into the wall to measure the moisture content. This is an accurate and reliable method for determining if there are water problems. We've been doing this type of testing since the late '90's, and we can say with certainty that there is no better method. The video clip below shows our process for moisture testing.

Interior Probe Testing
This is similar to exterior probe testing, however, this type of testing is much more limited because of interior finishes that cannot be damaged and stored personal items. This is a service we offer, but our preference is to conduct exterior probe testing because it's more thorough. The most critical areas to be tested cannot be accessed from the interior. The images to the left show a couple of examples of areas that can't be tested with interior probe testing: holes don't get drilled in tile, wood paneling, or similar decorative finishes.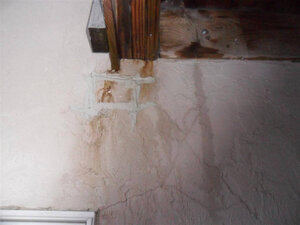 Cut It Open
Cutting right into the stucco and pulling it off will definitely tell you if you have a problem, but of course, this is extremely expensive and unsightly. If there isn't a problem, you're left with a bunch of nasty cut marks at best. The image to the left shows what stucco looks like after an exploratory hole has been cut and the hole patched up again.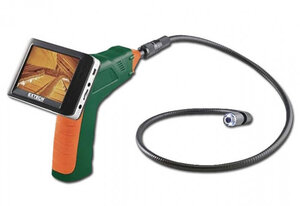 Video Scope/Borescope inspections
This involves sticking a small camera into wall cavities to examine the condition of the walls. Because exterior walls are insulated, this is extremely difficult to do and the results are nearly useless. This method also won't detect elevated moisture levels, meaning that the wood may look good but still be saturated. We don't recommend this.

Scan it with an Infrared Camera
This seemed like an attractive option when IR cameras first started becoming affordable, but thermal imaging has proven to be an inconclusive method for detecting water problems with stucco homes. We are not aware of any reputable companies offering this service in Minnesota. The images to the left show a suspicious area where the stucco is cooler, but this doesn't mean that water has entered the wall sheathing.
Check out our sample report below:
Check out the PDF version of this report.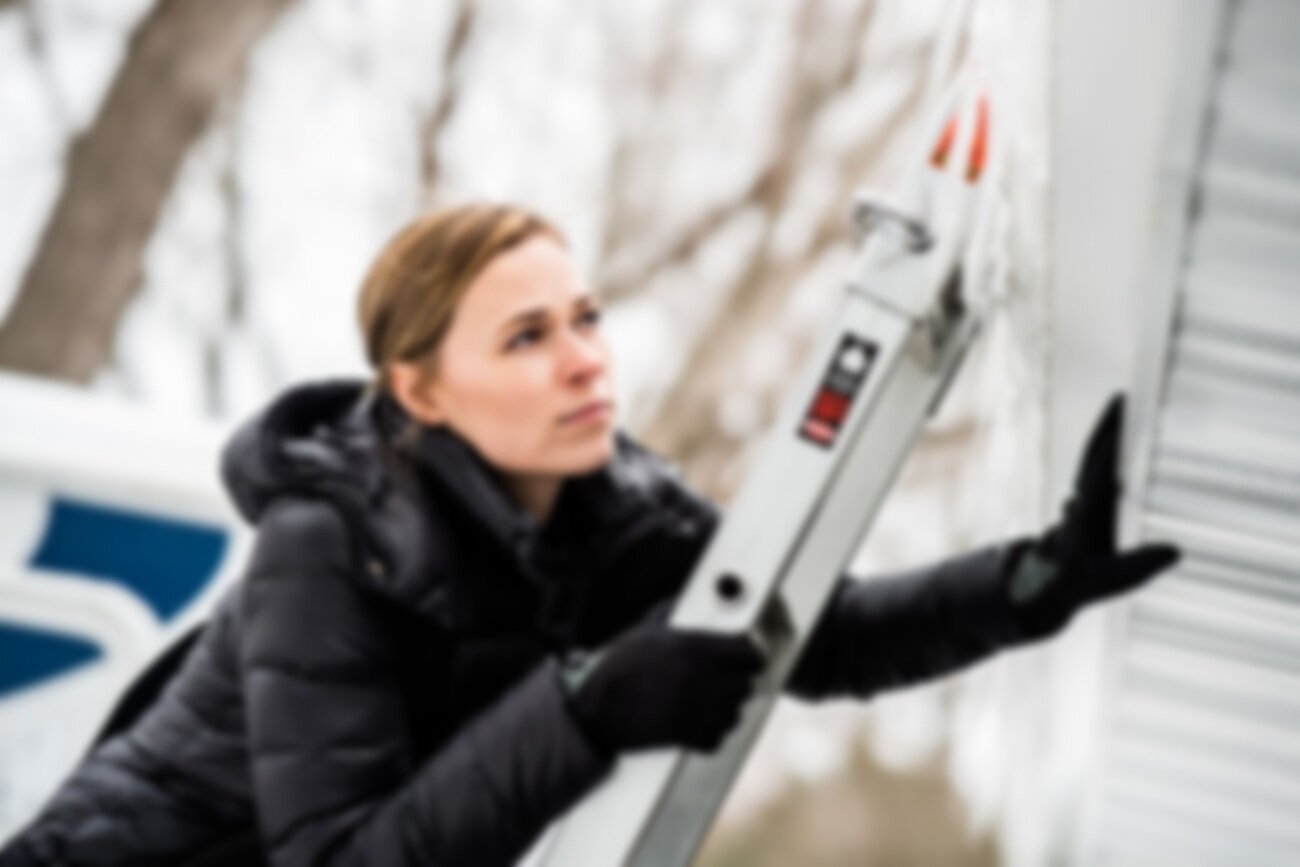 WE DO MOISTURE TESTING ON ALL KINDS OF SIDING

STUCCO
Pin-probe moisture testing of stucco houses is our bread and butter. We prefer to perform exterior testing, but we can also perform interior testing if needed.

VINYL
We offer non-invasive moisture testing on vinyl siding.

STONE
Stone siding (aka masonry veneer) is nearly identical to stucco and gets tested the same way, using pin-probe moisture testing.

ALUMINUM / STEEL
Aluminum and steel siding can be pin-probe tested from the interior of the home only.

BRICK
Brick siding can be tested with pin-probes.

WOOD
Wood siding can be moisture tested with non-invasive surface scanning, and then followed up with pin-probe testing at suspect areas.

COMPOSITE
Composite siding, such as James Hardie or LP Smartside, can be tested the same way that wood siding tested, using a combination of non-invasive and pin-probe testing.
WILL MOISTURE PROBE TESTING LEAVE THE HOME SCARRED AND UGLY?

No. Moisture testing involves drilling 3/16" holes and then patching the holes with caulk of a matching color. We bring along over 30 shades of caulk in order to find a good match. Once we're done, the moisture testing holes are typically only visible to someone with a trained eye, or someone who is looking for the holes up close.
WILL MOISTURE PROBE TESTING CAUSE DAMAGE TO THE HOUSE?

No. After testing thousands of stucco homes for over 20 years, we have never had a single case where water damage occurred as a result of moisture probe testing. Probe testing is the most reliable and least intrusive method available for testing stucco homes.
 WILL MOISTURE PROBE TESTING COMPROMISE THE INTEGRITY OF THE MOISTURE BARRIER?

Moisture testing will puncture the moisture barrier, however, by injecting caulking all the way inside the hole, it will also be able to seal the penetration.
WHY DO YOU USE CAULK AND NOT STUCCO TO PLUG THE HOLES?

It is difficult to match the color of stucco, and to have stucco mixed and color-matched on site would be cost prohibitive. Caulk is a flexible material that can be injected deep in the openings, making it a much better solution.
ARE YOU CERTIFIED?

Yes, our two moisture technicians, Antonio and Corey, are both EDI Level 2 Certified Members with Adhered Stone Veneer Certificates.
DOES THE SELLER NEED TO GIVE PERMISSION FOR INVASIVE MOISTURE TESTING?
WILL YOU ACCEPT AN AMENDED PURCHASE AGREEMENT INSTEAD OF YOUR MOISTURE RELEASE FORM?
 CAN I BE THERE FOR THE MOISTURE TESTING?

Sure, but you'll be bored. This isn't like a home inspection where it's a great learning experience: moisture testing involves setting up ladders, drilling holes, taking moisture readings, and then filling the holes. It gets pretty repetitive. If you plan to attend, bring a book along.
THE HOME I'M BUYING HAS REAL STUCCO, NOT THE SYNTHETIC STUFF THAT HAS HAD ALL OF THE PROBLEMS I'VE HEARD ABOUT… SO I SHOULD BE FINE, RIGHT?
WHEN ARE YOU AVAILABLE?

Please call our main office number for the most current availability.
WHAT DO YOU CHARGE FOR MOISTURE TESTING?

Our prices are based on the size of the home. For whole-house testing, our price starts at $845.00 for homes up to 3000 total square feet. For a single wall, the price is $545.00.
DO YOU OFFER A WARRANTY?

A warranty can be purchased through MoistureWarranty.com. Our moisture reports are accepted by this service as qualified moisture inspections.
HOW SOON IS THE REPORT AVAILABLE?

Most reports are sent out within 48 hours of the moisture test.
CAN MOISTURE TESTING BE DONE IN THE RAIN?

No, we cannot perform exterior moisture testing in the rain. Our equipment will get wet, making an accurate moisture report impossible.
CAN MOISTURE TESTING BE DONE RIGHT AFTER A RECENT RAIN? WON'T THIS ALWAYS SHOW A WET WALL?

Yes, moisture testing can be done right after a recent rainfall. We're probe testing the interior wall sheathing, which should always be dry.
WHAT IF IT HASN'T RAINED OUTSIDE FOR A MONTH? WON'T THE WALL BE DRY, MAKING A MOISTURE TEST IMPOSSIBLE OR USELESS?

If it's a home with stucco or stone siding, we can still provide accurate results. Stucco homes take months to dry out, making it possible to perform moisture testing throughout the year.
IS IT EVER TOO COLD TO PERFORM MOISTURE TESTING?

Yes. Frozen building components do not give accurate moisture readings. For exterior moisture testing, it starts to become difficult once the temperature drops below freezing.
CAN I SCHEDULE THE MOISTURE TEST TO HAPPEN AT THE SAME TIME AS THE HOME INSPECTION?

Yes. Home inspectors and moisture testing techs will not get in each others way. If you're using us for the home inspection, you can actually do this all with one call.