HOME INSPECTIONS FOR ANY SITUATION
At Structure Tech, we offer comprehensive home inspections that provide you with a thorough assessment of the property you are considering buying or selling. Our goal is to empower you with the knowledge and confidence to make informed decisions about your investment. Whether you're a first-time buyer or a seasoned homeowner, our home inspections are tailored to meet your specific needs.
WHY CHOOSE STRUCTURE TECH?
#1 Rated and Award-Winning: We are proud to be the #1 rated home inspection company in Minnesota, recognized by Google, Yelp, Angi, and Facebook. In addition, we've been honored with the Gold Award for Minnesota's Best Home Inspection Company in both 2022 and 2023 by Minnesota's Best. These accolades reflect our unwavering commitment to excellence and our dedication to providing top-notch home inspection services that consistently meet and exceed our client's expectations.
Unmatched Expertise: Our team of seasoned home inspectors brings an unparalleled wealth of experience to every inspection. With years of dedicated service in the field, they have conducted countless inspections across a diverse range of properties, amassing invaluable insights and unmatched expertise in uncovering potential issues. Their comprehensive knowledge and unwavering commitment to precision ensure that your home inspection is executed with the highest levels of professionalism and thoroughness, setting the gold standard in the industry. You can trust that your home is in the hands of true experts.
Detailed Inspections: A typical home inspection conducted by our experienced team takes about 4 hours, depending on the size and condition of the property. We thoroughly examine all accessible areas, including the structure, foundation, electrical systems, plumbing, HVAC, roof, and more. We encourage our clients to ask questions throughout the inspection walk-through, as we believe in fostering understanding and providing valuable education about homeownership and maintenance.
Comprehensive Reports: We understand the importance of clear and concise reporting. Our inspectors document their findings using state-of-the-art technology, including digital photos, diagrams, and illustrations. These visual aids, along with detailed descriptions, are compiled into a comprehensive inspection report that serves as a valuable reference for understanding the condition of the property. Our reports are easily accessible online and can be downloaded in PDF format for your convenience.
Transparent and Educative: We believe that an informed client is a satisfied client. That's why we go the extra mile to ensure that you understand the implications of our findings. We provide explanations and recommendations, along with relevant links to additional information on our website. Whether it's understanding major issues or delving into the nuances of building science, our inspectors are well-equipped to cater to your specific needs.
The Structure Tech Difference
| | | | | | |
| --- | --- | --- | --- | --- | --- |
| The Question | | Home Inspection Standards | | Structure Tech Standards | The Difference |
| Townhouse common areas inspected? | | 👎 | | 👍 | We inspect common areas the same way we do for single-family homes. |
| Roof walked? | | 👎 | | 👍 | We walk roofs when safe to do so, come equipped with 28′ extension ladders, and offer free drone inspections. |
| Sinks and bathtubs filled? | | 👎 | | 👍 | Filling these fixtures can reveal plumbing problems that a basic test won't. |
| Water softeners inspected? | | 👎 | | 👍 | We use hard water test strips to help verify water softeners are working. |
| Exhaust fans tested and verified? | | 👎 | | 👍 | We test all exhaust fans and verify airflow at the exterior. |
| Test all outlets, switches, and lights? | | 👎 | | 👍 | We test all readily accessible outlets and switches. Standards only require testing one per room(!) |
| Report on expired smoke and caron monoxide alarms? | | 👎 | | 👍 | All smoke and CO alarms expire after 10 years. |
| Test for carbon monoxide? | | 👎 | | 👍 | We use combustion analyzers to test furnaces, boilers, and gas fireplaces for proper operation. |
| Detailed testing of furnace? | | 👎 | | 👍 | We make sure furnaces are producing the right level of heat; not too, not too cold. |
| Detailed testing of AC? | | 👎 | | 👍 | We make sure furnaces are producing the right level of heat; not too, not too cold. |
| Whole-house ventilation systems inspected? | | 👎 | | 👍 | Air exchangers are excluded by home inspection standards. We inspect them. |
| Inspect all doors and windows? | | 👎 | | 👍 | We inspect all readily accessible windows and doors. Standards only require inspecting one per room (!). |
| Inspect and test laundry appliances? | | 👎 | | 👍 | Laundry appliances are excluded by home inspection standards. We test them. |
| Walk/crawl through attics? | | 👎 | | 👍 | Most home inspectors do not walk through attics. We do. |
| Report on known environmental hazards? | | 👎 | | 👍 | While we do not test for these during a home inspection, if we see something we say something. |
| Infrared inspection? | | 👎 | | 👍 | We use infrared cameras during every home inspection. |
| Test with a moisture meter? | | 👎 | | 👍 | Moisture meters help us detect hidden water problems. |
SAMPLE REPORT AND WHAT'S INSPECTED
Curious about what our home inspections cover? Click the button below to access a sample report and gain insight into the comprehensive nature of our inspections.
At Structure Tech, we pride ourselves on delivering exceptional home inspections that exceed our client's expectations. Let us help you make informed decisions and close with confidence. Contact us today to schedule your professional home inspection.
Remember, a comprehensive home inspection is an investment in your future. Don't settle for anything less than the expertise and dedication offered by Structure Tech.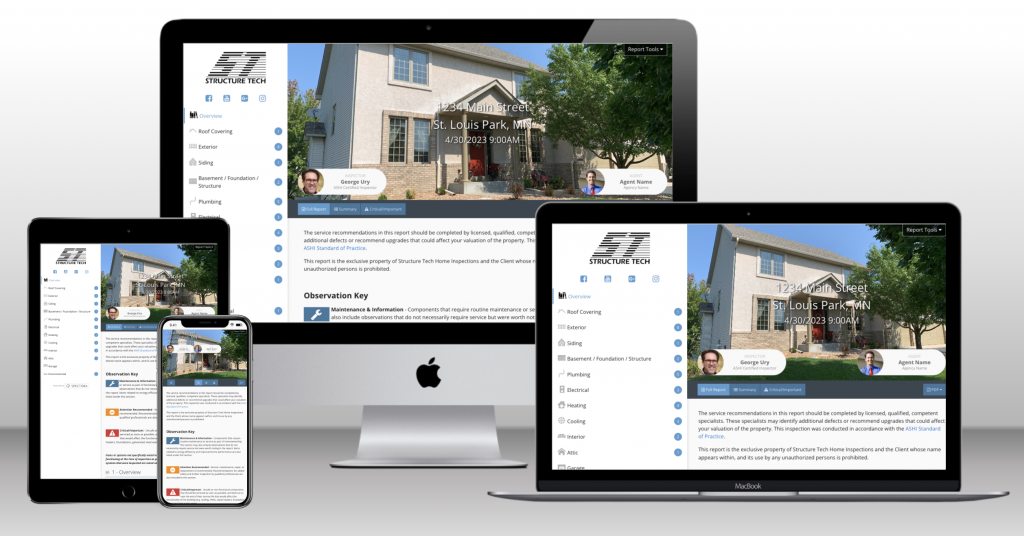 Below is a sample report with the client information removed. If you don't like looking at the report in this format, click the following link for a PDF version of our Sample Home Inspection Report.