I had a chance to test out the FLIR ONE Pro Thermal Camera, which is a $399 mobile phone accessory. Just plug it into the USB port on your phone and you now have an infrared camera with the same resolution as the FLIR E6, which is my camera of choice. I reviewed FLIR's first mobile phone thermal camera, the FLIR ONE, back in August of 2014. Since then, they've come out with a few upgraded versions, but the ONE Pro provides a huge upgrade in image quality.
The Basics
There are three versions of the ONE Pro: iPhone, Android USB-C, and Android micro-USB. At the moment, only the first two are available. I tested out the USB-C camera with my Pixel phone. The nice thing about a USB-C connection is that you can't plug the cable in upside-down; it's the same up or down. The micro-USB version isn't available just yet, but FLIR says they'll start shipping this winter.
In the meantime, the USB-C version can be used with phones that require micro-USB, but you'll need an adapter that'll make the camera stick out from your phone. I have one of those adapters to connect my Seek Thermal CompactPRO camera to my phone, and it makes me a bit nervous. If you own a phone that uses micro-USB, my advice is to wait until winter for the right ONE Pro camera.
This camera has its own internal battery, presumably because it uses a lot of juice. It's nice that it won't sap the battery on your phone, but it's also one more device to remember to keep charged.
Setting up the camera was pretty painless; I charged the camera, installed the app, registered online, and I was ready to go.
Size
The ONE Pro camera is the same width as my phone, but it's almost twice as thick.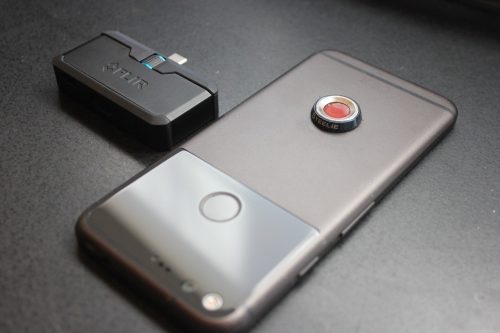 That's ok with me, however, because I use a case for my phone that makes the thickness about the same.
There's a big conspicuous dial on the ONE Pro that I first thought was a manual focus, but it actually adjusts the plug depth. See below.

I absolutely love this feature. If not for this, I'd have to take my phone out of its case every time I wanted to use the ONE Pro. It was smart of them to include this.
Shape
It's clumsy. You need two hands to use this thing. If you want one-handed operation, get a dedicated camera, not something that plugs into a mobile phone. This camera is meant for the occasional user, not a home inspector.
Software options
It does almost everything that I could think of. You can adjust the color palette, emissivity, turn the MSX on and off, adjust the IR scale, lock the span, take videos, and even do a time-lapse. My only complaint is that it won't take a thermal image at the same time as a regular image. That would be a handy feature to have, and I've grown accustomed to having it on my E6. Oh well.
Other stuff
The battery life was fine. I tested it out for a while, then left it sitting on my shelf for a couple of weeks. I turned it on again, and the battery life was at 42%. Not bad. It has a 55° field-of-view, while the E6 has a 45° field-of-view. The display is a little bit laggy, however. When moving the camera around, there's an annoying delay between where the camera points and what gets displayed on the screen. It makes me think of an old computer with an overworked processor that has a laggy mouse display. It's not incapacitating, but you definitely notice it. See below.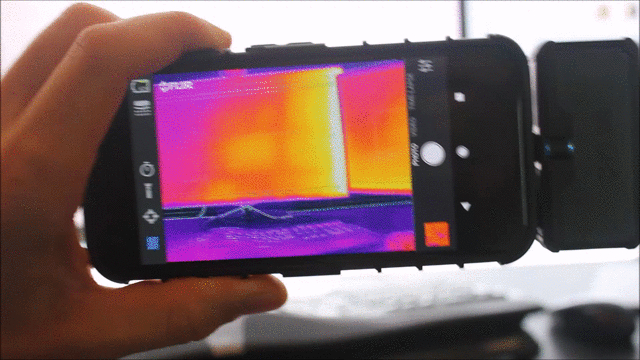 According to FLIR, the video frame rate is not a technical limitation; rather, it is factory set to be less than 9 frames per second (fps) to confirm with the guidelines from the International Traffic in Arms Regulations (ITAR).
Resolution
This camera boasts an impressive resolution of 160×120, which again, is the same as the FLIR E6. It also features FLIR's MSX technology, which blends high-contrast visible images with thermal images to give a much more pleasing image. I love that feature, even though it doesn't give me any more useful information. I took a bunch of images with the ONE Pro and the E6 side-by-side, to see how the images compare to a $2,000 camera. Check 'em out.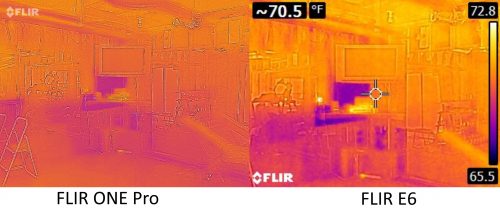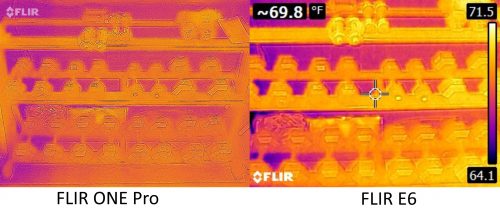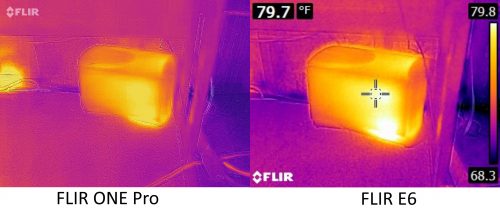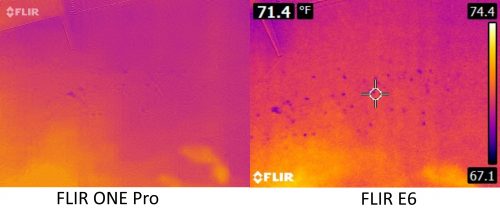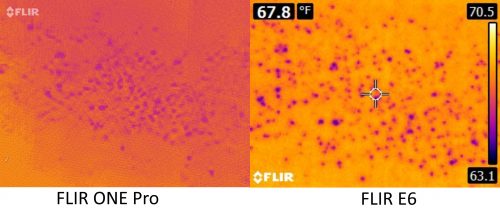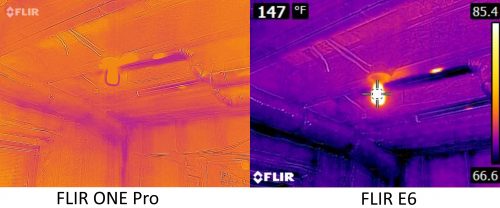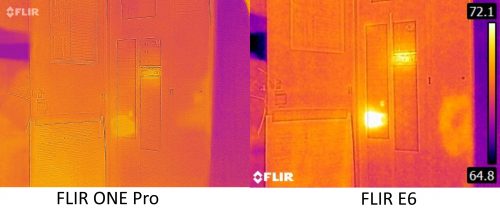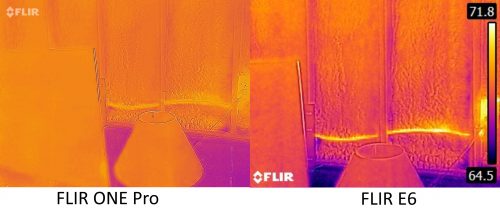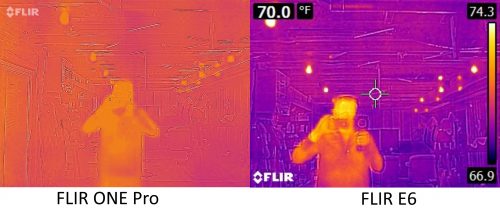 Th E6 images all look better in the smaller size, but once you look at a larger version of the image, the ONE Pro looks better. Try clicking on any of the images above and you'll see what I mean. The actual infrared data that you get from the E6 is more detailed, but the MSX feature makes the ONE Pro shine. I took a few images with the MSX turned off to help demonstrate the difference.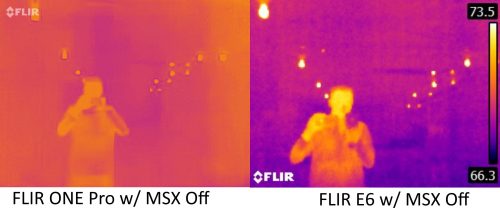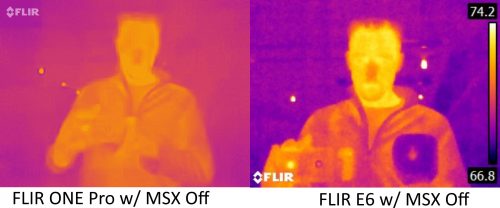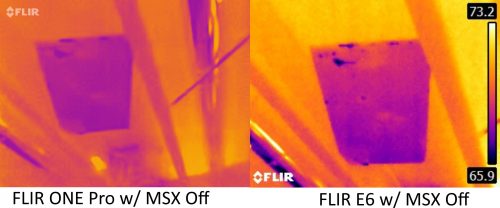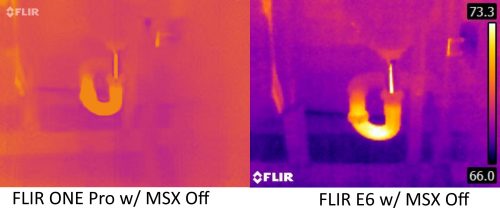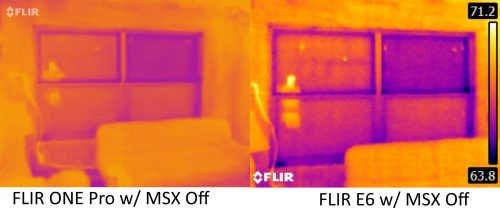 As you can see, the E6 produces superior images.
Thermal Sensitivity
If both cameras have the same resolution, why does the E6 look so much better? It has to be the thermal sensitivity. Unfortunately, the two cameras use different scales to measure this. The ONE Pro is listed at 150mK, while the E6 is listed as <0.06°C. I don't know how to compare those two numbers, but the images above explain it well enough for me.
FLIR ONE Pro Conclusion
This is a great little camera for $400. If you have a need for an infrared camera once a week or less, this would probably be a great option for you. You don't get the same level of detail that you'd get with a more expensive camera, and you'll need to be careful with this camera, but it'll work. If you're a home inspector, this probably isn't the right camera for you.
If you're a homeowner, a tradesperson, or someone else who has an occasional need for an infrared camera, this camera is a great option.
Author: Reuben Saltzman, Structure Tech Home Inspections