May is the North American Deck and Railing Association's Deck Safety Month.  This gives me a great opportunity to talk about what I look at when I inspect balconies and decks in Minnesota, and what the most common defects are.
It's estimated that of the 40 million decks in the United States, only half are built to code.  As a side note, building to code means you're doing the worst job you possibly can, while still being legal.  The building code is a minimum requirement, and building 'to code' is not something to brag about. From the thousands of home inspections that I've performed, I'd agree that at least half the decks I look at have issues.  Decks are a part of a house that many homeowners feel qualified to build themselves, permits are frequently not pulled for the work, and the work may never get inspected.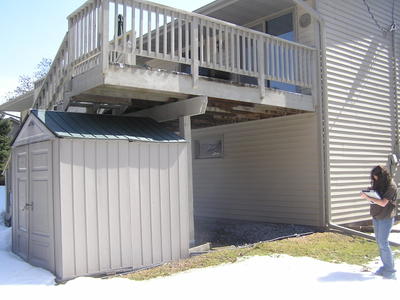 The most common cause of deck collapse / failure is lack of proper attachment to the house.  This is also one of the most common defects with decks that I find!  The deck rim (or ledger) needs to be bolted to the house to keep it from falling away, but is frequently just nailed.   A few of the other most common defects that I find are missing nails in joist hangers (brackets that support the floor structure), missing flashing at the rim (metal that keeps water from leaking in to the house), and improper load transfers.   The photo at right illustrates an improper load transfer – look closely at the top of the stairway and ask yourself, what is supporting the landing at the top of the stairway?  This deck needs repair by a professional contractor.
While many decks are improperly built and remain in tact for a long time, what leads to failure or collapse is typically a change in use, which happens when there is a change in ownership.  Grandma and Grandpa have had the deck for 10 years and haven't had any problems, but when a new family buys a house and has their first housewarming party, it might be the first time the structure of the deck is really even tested.  This is why decks receive particular attention during home inspections.
I also happened to do a story on balcony and deck collapses last year with Fox 9 News, which you can view below.
Reuben Saltzman, Structure Tech Home Inspections – Email – Minnesota Deck Inspections