Minnesota adopted a new plumbing code in January of this year, and of course, that brought many new plumbing code requirements. I blogged about the new Minnesota plumbing code earlier this year, but one new change that I never mentioned is the requirement for water hammer arresters. The old Minnesota plumbing code required "protective devices or approved mechanical shock absorbers" to be installed when noises were created due to water hammer (4715.1750), but the new plumbing code doesn't give any kind of wiggle room, specifying exactly how this must be done.
The new plumbing code says the following:
609.10 Water Hammer. Building water supply systems where quick-acting valves are installed shall be provided with water hammer arrester(s) to absorb high pressures resulting from the quick closing of these valves. Water hammer arresters shall be approved mechanical devices in accordance with the applicable standard(s) referenced in Table 1401.1 and shall be installed as close as possible to quick-acting valves.
In other words, water hammer arresters are now required; they're not just kinda suggested. The places that you'll most commonly find "quick-acting valves" will be at dishwashers and clothes washing machines. Also, the standard referenced in Table 1401.1 is ASSE 1010-2004, Water Hammer Arresters.
More on water hammer
Water hammer occurs when a bunch of flowing water is suddenly stopped, causing a shockwave as shown in the diagram below: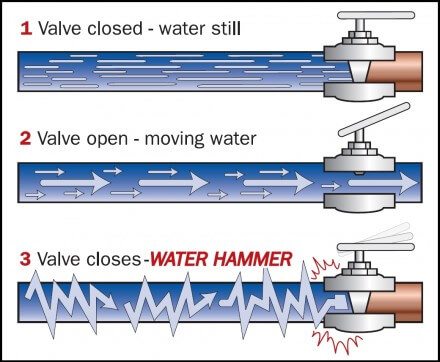 While water hammer is worst with the aforementioned quick-acting valves, it can really happen anywhere. I had a small problem with this at my own kitchen sink after replacing my 1/2″ water line with a 3/8″ water line to get hot water to my sink faster. All it took to fix this issue was to secure the water line, but the "before" video was quite dramatic.  All that I'm doing in the video below to get the pipe to bang is turning my hot water on and off at the kitchen faucet.
The most common water hammer arresters that I find in homes are made by Sioux Chief. There is some excellent information about water hammer arresters on the Sioux Chief website, along with some good video clips showing how water hammer arresters operate:
These products are available at home improvement stores and plumbing supply stores. The most common place for water hammer is at washing machine hoses. If you experience water hammer at your own washing machine connections, the quick and easy solution is to purchase a set of water hammer arresters made specifically for washing machines. These have a standard 3/4″ hose thread and are about as much work to install as connecting a garden hose to a faucet.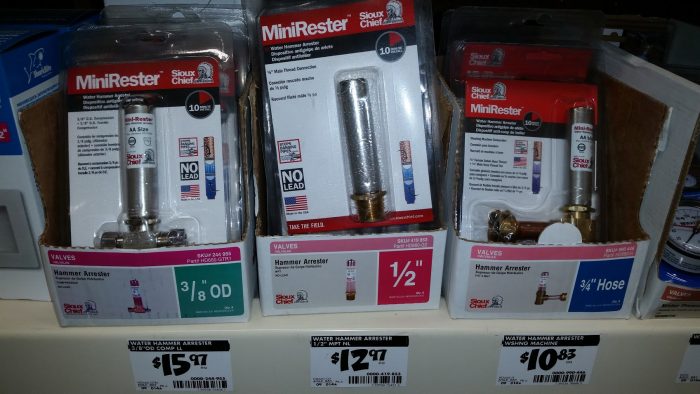 Author: Reuben Saltzman, Structure Tech Home Inspections