If you drive and you own a smartphone, you owe it to yourself to try Waze. It's a free community-powered navigation app that beats the pants off any GPS device or app I've ever tried. I first began using Waze shortly after the company was purchased by Google in 2013, but today I use it just about any time I drive anywhere. It's just that useful.

Key Benefits
Waze is as good of a navigation app as anything else out there; it gives turn-by-turn directions, the maps are up to date, and the interface is easy to use. What makes Waze so special is the fact that it's a community-powered app. The more people that use it, the better it gets. When drivers have Waze running on their mobile devices, Waze grabs data from the users and uses that information to figure out how traffic is flowing. Navigational instructions are modified based on this data, all in real-time.
Not only does Waze grab information from users, but users can report things like traffic jams, accidents, road hazards, and police presence. By having Waze running whenever I drive, I'm contributing to the overall accuracy of the program in addition to getting alerts about all of the above. Even if I'm taking a well-traveled route that I've taken hundreds of times before, I use Waze to alert me to any potential problems with my drive.
Waze is also able to sync with user calendar settings, making it especially easy to navigate to appointments. Waze has a list of all the places I'll be heading in the near future, and I just click on the event to get directions from Waze. The newest version of the app even gives me a popup on my phone every evening, letting me know what time I'll need to leave the next morning to get to my first appointment on time.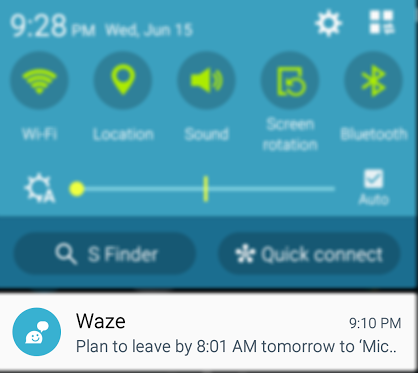 Google Cards has a similar feature, but I trust the driving times that Waze gives me even more.
Anecdotes
Waze will sometimes have me take a funny route, and I've learned to just trust it. Sometimes I actually end up turning my back to my destination to take an out-of-the-way path, but it always saves me time. For example, I've actually been directed to drive north to Highway 610 all the way over to 252 just to get from Maple Grove to Minneapolis. It seems stupid, but sometimes it's a huge time saver. I also can't remember the last time I drove through the Lowry tunnel in the morning; Waze always has me taking a different route, and it always saves time.
I've found the drive time estimates given by Waze to be quite accurate as well. A few times a year I'll get stuck in worse traffic than what was predicted, but it doesn't happen often, and it's usually only a few minutes of delay for what's often a 30 – 45 minute drive.
If you haven't tried Waze, give it a shot. It's a free app, so you don't have much to lose. Get it here: https://www.waze.com/
Author: Reuben Saltzman, Structure Tech Home Inspections
P.S. While this is the first and possibly last traffic-related post on this blog, I ought to mention MNPass too. If you've ever thought it would be handy to use the MNPass express lanes, do yourself a favor and set up an account to get a transponder. There is no fee to set up an account and no monthly fee for the transponder; you simply pre-load your account in $25 increments, and the funds are deducted from your account when you choose to use the MNPass lanes. When I used to live in Bryn Mawr, a neighborhood just outside of downtown Minneapolis, I would actually backtrack just to be able to use the 394 express lanes to get to Saint Paul. It was always the best investment of $1.25 (or whatever) that I could possibly make. It's easy to set up an account online here: http://www.dot.state.mn.us/mnpass/index.html