There's a very good chance that the smoke alarms in your home won't save your life in the case of a house fire. Nearly 3,000 people die every year in house fires, but approximately 2/3 of those deaths could be prevented simply by having the right type of smoke alarms.
If you don't have photoelectric smoke alarms in your home, I urge you to install them. If you don't know what type of smoke alarms you have, you probably don't have photoelectric. I have yet to inspect a single new construction home with photoelectric smoke alarms. You heard that right, I've never seen it done, not once, in a new construction home.
I'm beating this drum, yet again, because we just had code guru Skip Walker on our podcast to talk about smoke alarms. I've blogged on this topic many times in the past, and I'm going to continue unapologetically blogging about it because this is a really big deal. If you want to hear why this matters so much, please check out our podcast on the topic.
For my cliff-notes version of the podcast, read on.
Deadly Differences
There are two main types of smoke alarms on the market, ionization and photoelectric. Ionization alarms were originally designed for warships during WWI to help detect fires on ammunition ships, which we can all agree would be a really bad thing. These devices use a small amount of radioactive material to ionize the air and will detect small changes in the electrical field created by small particles flowing through it, caused by flames. Ionization alarms are good at detecting fast flaming fires.
As it just so happens, ionization alarms are also very good at detecting burning food. These false alarms lead people to believe that their smoke alarms are extremely sensitive, and therefore extremely effective. This creates a false sense of security, yet also dramatically increases the risk of people removing or disabling their smoke alarms because they are frustrated by the frequent nuisance alarms. Intentional disconnects and non-functional alarms kill about 1,000 people per year.
Photoelectric smoke alarms, on the other hand, use a small chamber with light passing through it. If smoke particles obstruct the light, the alarm sounds off. I'm oversimplifying this concept, and this isn't exactly how they work, but this is the best analogy I can come up with. This makes photoelectric smoke alarms good at detecting slow, smoldering fires.
Slow, smoldering fires are also very deadly fires. A good example would be a couch starting on fire. It sits and smolders for a very long time, completely filling a room with smoke, toxic chemicals, and carbon monoxide. The smoke gets so thick that you can't see anything in front of you. A photoelectric smoke alarm will sound off very early with this situation, but an ionization alarm won't sound off until it's way too late, right as the couch is about to burst into flames.
Ionization alarms have about a 55% failure rate to save people in home fires. Can you believe that? I think this is crazy and horrible. Part of this dismal number is the failure of these alarms to sound off, and the other part is because people disable their alarms because of nuisance tripping.
On the other hand, photoelectric smoke alarms have a 96% success rate! So which one do you want in your home?
There's a third type of smoke alarm available today, called optical smoke alarms. These essentially have two photoelectric sensors and are slightly better than straight-up photoelectric smoke alarms. Skip Walker says it's not worth replacing your photoelectric smoke alarms because it's such a small boost in performance. That, and a ton of these optical sensor smoke alarms were voluntarily recalled just recently.
Why don't we have better rules?
Photoelectric smoke alarms aren't new. They've been around for decades, yet most states don't require them, and most people don't install them because they cost just a little bit more money. And as I said at the beginning of this post, I've never seen a home builder install them. This is a business decision. It's a matter of going with the least expensive, legal option available.
Skip shared some very disturbing information about the rule-making process for smoke alarm safety during our podcast. It seems that it's just about impossible to get the rules changed for the public good when it comes to smoke alarm safety.
Take Action Today!
If you don't know what type of smoke alarms you have in your home, check 'em out. Give your smoke alarm a twist, pull it down and look at the label on the backside. It might say Photoelectric or Ionization, but if you don't see either of those words, look for the word "radioactive". That indicates an ionization alarm, or possibly a dual-sensor alarm.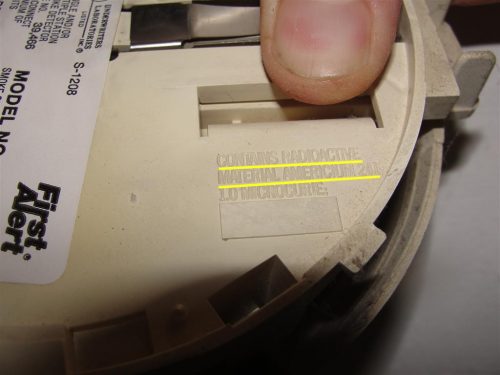 And if your smoke alarm is over ten years old, replace it. If you can't find a date on the back, it's surely more than twenty years old and long overdue for replacement. You know what to do. Even if you have hardwired smoke alarms, it's not that big of a deal to replace them. I made a short video clip showing how it's done, check it out:
For more information, check out some of these related links: