Radon licensing is coming to Minnesota. I first shared news of the Minnesota Radon Licensing Act on my blog over a year ago, but a fair amount has changed since then. First and foremost, I'd like to thank Mike Hogenson of Standard Water Control Systems for investing his time working to make the initial licensing act more palatable to radon professionals in Minnesota. He has sent out a lot of emails, made a lot of phone calls, and even put together a web page giving information about the radon act, which can be accessed here: http://mnradonlicensingact.standardwater.com/.
The initially proposed set of rules has been significantly modified by an amendment which has passed the senate and been signed by the governor. It looks like we now have statute language that is going to become official. The initial statute can be viewed on my blog, and the amended version can be viewed here:  http://www.house.leg.state.mn.us/comm/docs/19b3175e-df8b-4f3d-9d14-54221b4caf7e.pdf
Summary of Minnesota Radon Licensing Act
To make things easy, I've put together a summary of what I consider being the most notable points of the new statute for radon testing and mitigation. I'm paraphrasing all of this and I'm making my own decisions about what I think is important and what's not, so read the statute once it's put into effect if you want the unabridged version.
Rulemaking: The Commissioner of Health will be responsible for making rules to enforce the licensing and work standards for radon testing and mitigation. Once these rules have been established, we'll have a lot more to talk about. This statute doesn't give a lot of details about exactly how everything is going to work.
Annual licensing: Every person, firm, or corporation that does radon testing and / or radon mitigation in Minnesota will need to be licensed, and they'll need to renew their license annually. This goes into effect January 1, 2018. This doesn't apply to new construction homes.
Licensing fees: 
Radon measurement licensing will be $150 per year for each per person, firm, or corporation.
Radon mitigation licensing will be $250 per year, per person. Each radon mitigation company will also need to be licensed, at a cost of $100 per year. The one exception to that fee is if there is only one licensed mitigation professional at the company. At least one individual in each mitigation company must be a "Mitigation professional", responsible for on-site supervision of non-licensed radon mitigation technicians.
Radon analysis laboratories will need to be licensed at $500 per year. This fee is waived if the laboratory is a government entity and only distributes test kits for public use in Minnesota.
Each installed radon mitigation system will need a "system tag", at a cost of $75 each. This is kind of like a permit fee, but it won't pay for any inspections. It will simply be a fee that radon mitigation companies will need to pay to the state government special revenue fund. Individual cities will have the right to require permits for radon mitigation systems, and those permit fees would be in addition to the system tag fees.
My Two Cents
I hope the new rules won't require licensing for every home inspector (or "test technician") in my company. The statute requires licensing for "each person, firm, or corporation." Note the word "or", not "and", which I underlined. My interpretation is that one person in my company can be licensed – or – my company can be licensed to conduct radon testing. I hope that's the same way the Minnesota Department of Health sees it when the official rule-making happens. That's how we already do things now.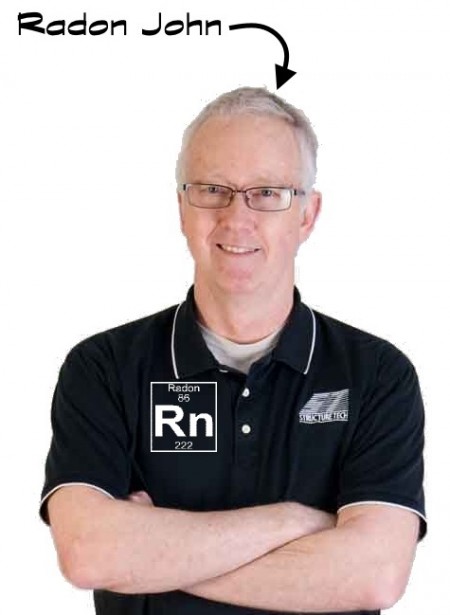 At my company, we have one person in charge of radon testing, John Fitzgerald (aka "Radon John"). Radon John is our Principal Investigator and Quality Assurance Officer for radon testing. He conducts all of the radon tests, spending most of his time driving around the Twin Cities setting radon monitors or picking them up. He is certified through AARST-NRPP, he ensures that all of our equipment is calibrated annually, he ensures conformance with our Quality Assurance Plan, and he completes 16 hours of continuing education on radon testing every two years.
When we conduct a radon test along with a home inspection, we offer a $45 discount on the radon test if we can set the monitor or pick it up at the same time as the home inspection. We offer this discount because it saves Radon John a trip to the property. This means that the home inspector (test technician) will either be setting the test or picking it up. Radon John is responsible for making sure that all of us test technicians are doing our jobs properly.
If the new rules end up requiring licensing for every test technician, I expect each test technician will be required to attend 12 – 16 hours of continuing education every year or two. There is a fee for continuing education, a fee for licensing, and a cost for a day or two of lost work. If test technicians need to be licensed, I'll need to crunch the numbers to decide whether it will be worth getting them licensed or not. If not, I simply wouldn't have any more test technicians and would just have Radon John set and pick up every single radon monitor, for a significant increase in cost.
In short, I hope that the new rules for radon licensing will not require licensing for every radon test technician, in much the same way that they already don't require licensing for radon mitigation technicians. This would be a completely unnecessary requirement, and the additional costs would be passed on to the end consumers with no additional benefits.
Author: Reuben Saltzman, Structure Tech Home Inspections