This is a guest blog post by Ryan Carey, of My 3 Quotes.
I don't know what's worse, the storm damage itself or what follows after. Many of you have been through it- hunkered in the basement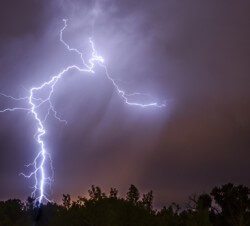 hoping a tornado doesn't drop, when all of a sudden you hear something that sounds like Tiger Woods hitting rapid fire 2-iron shots at your house. But you don't live near a golf course. Is your car outside? How is the roof holding up? Did a tree just snap? Was that breaking glass?
When the last wave of awful weather finally passes and you're out inspecting the damage, the first wave of storm-chasers starts to hit. In some cases, they are knocking on your door before the last rain drops have stopped. They have been driving around, listening to the radio and getting hail reports sent to their phone. They have been cheering for the largest hail possible and this storm looks like a winner! In this post, we will be talking about what to look for and what to avoid in the multi-billion dollar game that is storm damage restoration.
Knock, Knock!
First of all, just because a company knocks on your door does not mean that they are a bad company. Local companies that got fed up with losing business to out-of-towners have jumped into door-knocking as well, even if it isn't part of their normal M.O. The important thing to remember is to NOT sign anything until you've done your homework. Many companies that do primarily storm damage follow storms around the country, so you want to make sure that someone will be around to service your roof if starts to leak or if any other problem pops up.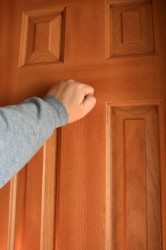 The process is this: you will get a knock on your door by someone offering to do a free inspection on your roof. This sounds pretty good to you, since you don't know exactly what hail damage on a roof looks like. When he comes back down, he'll tell you that there is damage up there and he happens to be an expert when it comes to working with insurance adjusters. He then takes out an insurance commit form and explains what it means. He says that this form gives him permission to work on your behalf with your insurance adjuster. By signing it, you agree that if the damage gets covered, this is the company you will use. If it doesn't get approved, then you aren't committed to anything. This seems like a reasonable request to you, since he was nice enough to go up and do a thorough examination of your roof. And after all, no money out of your pocket besides the deductible so why not?
Hire Local
I'll tell you why not. The company is headquartered out of state, and when this storm is tapped out they are moving on to the next one.  I can't stress this enough.  Choosing a storm damage contractor should be no different than choosing a contractor for anything else. My advice is to use a local company with longevity who will be around to help if anything needs fixing. Examine the contractor's labor or "workmanship" warranty. Read reviews and check out the BBB. Go look at jobs they have done. This is too important a decision to just sign with the first person that knocks on your door, but you would be surprised at how many people do.
Over the years, more and more homeowners have started to ask if the company is local, so the storm-chasers have adjusted. Some out-of-state companies will come in and set up shop with a local and do business under that company's name. The local company gets a cut and will be here to do the service if needed. When the person who knocks on your door has a southern accent but is "working" for a company that has been in Minnesota for 20 years, that just might be the case.  There is also the possibility that it's a Minnesota company that does work nationally, and they bring in all the resources from around the country when the big one hits here.  The way to find out is to ask more questions and do your research.
Get A Quote
You will get a ton of funny responses if you ask the contractor a certain question. "Can you please give me a quote on what the job will cost?" Most will refuse, because they know the final price tag will be much higher through working the insurance process than they would normally bid if they were in a competitive estimate situation. In the My 3 Quotes process, almost every time I've had the contractors I work with bid on an insurance job that includes asphalt roofing, the bids come in thousands less than what the insurance companies pay out. Normally, the chosen contractor would be working to raise the initial pay-out another 20%; most of them have a specific person in the office who's job it is to work the insurance software program (called Xactimate) for more money. And people wonder why the premiums go up. Insurance companies don't require competitive bids, so every contractor is free to work the system for as much extra money as they can get once they get selected as your contractor.
You can hardly blame the storm chasing contractors for this, as the insurance companies have left doors open for knowledgeable contractors to raise the price to very high profit margins. This is why so many companies ONLY do storm damage. Competing against others on price and quality? Way too much work! This is so much easier. Get the customer to sign the commit form and watch the dollars come rolling in!
With all this extra money available, many contractors offer to "pay" the customer's deductible to cement the deal. If the insurance company asks for an invoice, they will actually send them one for the full amount including deductible but charge the customer for less. If you do this, both you and the contractor are engaging in insurance fraud, plain and simple.
Getting Out of a Contract
So what do you do if you signed the commit form and find out later that it is NOT a company you want to do business with? If you are beyond the 3-day right to cancel, many customers feel they are stuck. The fact is, if you only signed the commit form but did not sign an actual contract for scope of work with a down payment, very few companies will ever fight you on it if you tell them you want to cancel. They may try to scare you and say they will, but most won't. Many of these commit forms say they are entitled to 25% of the job total if you cancel after the 3 days.
The question for them is, 25% of what? If you no longer communicate with them on whether the job got approved or not by insurance (and if it did, they won't know for how much), how will they arrive at a 25% fee? Again, unless companies have down payments from you (or have ordered material on your behalf), they are in an uphill battle trying to do business with a homeowner that wants nothing to do with them. Most will give up pretty quickly.
Are You Signing a Permission Slip or a Contract?
Some salespeople are deceptive when it comes to getting that original signature. They will tell you it is just for permission to talk to your insurance company, but they will gloss over the part where it says you must to do the work with them. My best advice would be to ask them to leave behind their form so you can look it over. If they are not willing to do this, send them on their way. The second option is to avoid all door-knockers and simply call the company you would like to inspect your roof so YOU are in control of making this important decision.
What About Windows?
Another important question to ask any contractor is if they will handle damaged windows in your insurance claim. Many are up for the quick score of roofing or siding, so they ignore damage to the windows. Windows are more work to identify, take more time to order for custom-sizing (thus delaying the final payment), and for many contractors it is not their expertise. If you have aluminum clad windows, make sure to have them inspected. In some storms, the hail and wind are so severe that the seals of the double pane window fail. This results in a cloudy look to your windows that you can't get clean, sometimes with visible condensation between the two panes. Make sure everything is looked at during the inspection.
Contractor vs. Adjuster
One last thing to remember is that many of these storm-chasing contractors will tell you that you have damage even if you don't. They are simply playing the odds that maybe one of the adjusters who comes out might be new and could be bullied into approving the job. The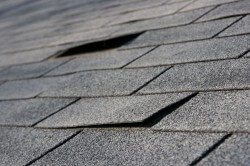 insurance adjusters usually know who these companies are and shake their head when they see who you signed with. If the adjuster does not approve the job, the contractor may ask you to threaten the insurance company with losing your business if they don't approve it, and things can get ugly from there.
There are many battles between adjusters and contractors, and many times they play out right in front of the customer. If you see this happening, have the contractor show you what damage he is seeing. Have him take pictures of it if you don't feel like getting up on your roof. There are certainly times when the contractor is right and the insurance company is not being fair about obvious damage. Just be aware that some contractors practice the "every house has damage" angle.
Insurance Company Shenanigans
Now that you know some of the things contractors may try to pull, be aware that the insurance companies have their moments as well.  Sometimes they low-ball the estimate and the contractors have to work hard for supplements that are needed just to make the job turn a profit (getting multiple quotes would let you know pretty quick if your insurance company is over-paying or under-paying).  Sometimes their first adjuster doesn't cover obvious damage, and it takes the contractor to schedule a re-adjustment to get the repair to go through.  Sometimes they change the terms of your coverage without you knowing it.
Minnesota has been a state that required full house replacement for siding or roofing if some product is damaged and the product is no longer made by the manufacturer.  However, some companies will hide a change in the 20+ page document they send each year which states that is no longer valid unless you add a low-cost rider to your coverage.  Most people would pay the small extra charge to cover this, but they don't even know that it has changed.  When you receive that booklet, call your agent and ask if anything is changing that you should know about (or take the time to read the whole boring thing).  Otherwise, you may be in a situation where you have to find the "closest match available" for only the siding or roofing that is damaged.  This could mean a checker-board look to your house as your insurance company only covers individual shingles or siding panels.
Also, good luck finding a contractor who will put a warranty on a roof that they are only doing part of.  No contractor wants to be held responsible for a leak in part of the roof they didn't do.  Now is a great time to call your agent to go through these questions, before the storms hit.
Wood Roof Shortcomings
While insurance companies can end up over-paying for jobs that include asphalt roofing, there are other items some insurance companies are notorious for underbidding.  The Xactimate software has no idea when it comes to cedar shake roofing or windows.  I guess I'm really saying that whoever programmed it had no idea.  In many cases, the numbers it spits out for those two items are not enough for contractors to complete the work.  Most companies will allow contractors to send in their window bid and adjust to it because they know the system is flawed.  That gives the contractor another opportunity to inflate a bid with no competition.
Some companies dig in their heels more with cedar shake roofing, and local contractors have had a tough time getting enough money for that unless they can get supplements elsewhere.  If there are more than three trades in the job, some insurance companies will give an extra 20% (called 10% profit, 10% overhead) for contracting  out all trades and that will usually get the contractors where they need to be, even if the original pay-out was underbid.  In other cases, that ends up being some heavy icing on an already bulging cake.
We all know there will be storms every summer. If the big one hits your area, take some time before making any decisions and try to resist the multiple door-knocks. Or you can do what a former neighbor of mine did…he put a sign by his door that said, "Please leave your fliers here!" Underneath was an arrow pointing to his garbage can.

Ryan Carey has 15 years of experience in exterior remodeling for Twin Cities Homeowners and Property Management Companies.  He is the owner of "My 3 Quotes," a company that provides the free service of collecting 3 competitive home improvement bids for customers.  For more information, visit www.getmy3quotes.com for free home improvement estimates.