One of the more awkward conversations that I had with a home seller this year dealt with a high radon test at his home in Minnesota.  We performed a radon test for the buyer, and the test came up high (over 4.0 pCi/L), so the buyer asked the seller to install a radon mitigation system.  The seller wasn't happy about this, so he called us up to complain.
We had performed a radon test for the seller when he bought the home four years ago, and the test was below 4.0 pCi/L.
I could understand the seller's frustration; I would have been frustrated too.  How could this be?  Was our electronic radon monitor broken?  No, it really just came down to timing.  Radon levels constantly fluctuate throughout the day, and even throughout the year.  There are many factors that affect radon test results – so many that you'll never get the exact same results twice.  A few of the larger factors include:
Where the test was placed in the home.
Barometric pressure.  Rainy weather = lower pressure = higher radon levels
Ventilation systems.  An HRV running at full speed can cut radon levels in half.
Windows open vs closed.  Houses always act like chimneys; warm air rises.  This creates negative pressure in the basement and positive pressure at the upper levels.  When windows are open at the upper levels, the house will act even more like a chimney, which increases radon levels.  That's right; opening windows on the upper levels can actually increase radon levels in the basement, which is where the test is placed.
With all of these factors, why even bother with a short term radon test? Because it helps to decide whether or not radon is a problem that needs to be dealt with.   The overall seasonal average typically won't be too far off from the short term test.
I performed a radon test at my own house for 96 hours, and as you can see from the graph below, the levels didn't vary all that much.  The overall average came out to 2.6 pCi/L.  If you were to only look at the highest levels in a 48 hour period for this test, the average would still only be 2.9 pCi/L.  I've performed many tests at my house throughout the year, and the average is consistently between 1 and 3.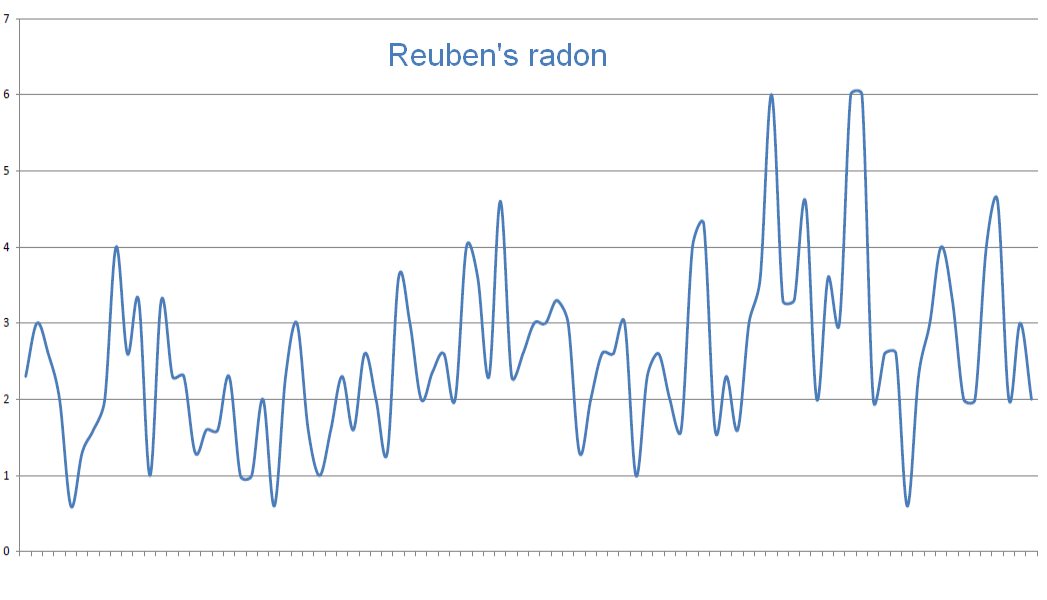 For the record, we have every one of our electronic radon monitors calibrated annually.  While radon levels may be volatile, the accuracy of our tests isn't.
Reuben Saltzman, Structure Tech Home Inspections – Email – Minneapolis Home Inspections