This is a guest blog post by Ryan Carey, of My 3 Quotes.

If you didn't call My 3 Quotes and you've just been through three very long and very painful window sales pitches, your head is now spinning. One salesperson told you all vinyl windows are junk, one told you to avoid wood windows at all costs, and one said fiberglass is nowhere near worth the money. They also had different ideas on the best spacer, balance system, weatherstrip, and glass pack. Now, who said what again?
Then came install methods. One salesperson said you need to do a full frame replacement with all new trim, one told you that an insert (retrofit) install will save you money and be just as good, and a third brought up sash replacement as the best option.
Then they all gave a reason why their price was only good for ONE DAY! One salesperson said they would invest "marketing dollars" in your house if you signed today, one had a coupon that was only good for "initial in-home presentation," and one said they would keep a sign in your yard for a month so that you would get the honor of a special deal (that was only good for that day, of course). They were all willing to go 40-50% percent off their list price if you signed on the spot, but the prices still seemed really high.
Confused and annoyed yet? Of course you are! In "Window Replacement: Part 1," we discussed glass packs and U-factors. Now let's talk about the materials windows are made of and what install method is best for you.
Vinyl
There are thousands of vinyl window companies out there, with names like Lindsay, Alside, Great Lakes, etc… Not many people have heard of these windows like they have heard of the Big Three- Andersen, Pella, and Marvin (topic of Window Replacement: Part 3). Vinyl detractors attack the strength of the material, how it looks, and how much it expands and contracts.
Similar to vinyl siding, my best advice with vinyl windows is to go with the top option any manufacturer makes. Almost every vinyl window manufacturer has a good, better, and best line. The "best" is absolutely an option for our climate, "better" is not so good for our climate, and "good" is only good for our fish houses and deer stands. The top options use more material for strength, better weatherstrip, the best glass packs, and they have lifetime warranties. Again, go for an overall U-factor of .30 or below.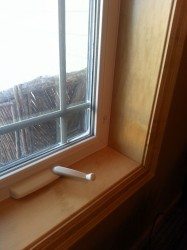 Vinyl is less expensive than wood and fiberglass, but some people can't get over how they look. Many can find a color that works or pay an upgrade for a woodgrain laminate that matches their trim, but for others, it is dead on arrival. That is all personal preference and it's why we have choices.
Yes, vinyl does expand and contract more than any other window material, but that does not have a dramatic effect on the performance. With any window, you'll need to do routine maintenance. The line of caulking on the exterior can dry out and separate over time as the material moves, so you'll need to re-caulk at some point. Insulation around the window needs to be checked periodically, as well. Low-expanding foam is typically used to insulate around a window, but there are times when gaps can occur and you might get a draft. Final analysis: stick with top-of-the-line vinyl, and you'll be happy with the results.
Wood
Easily the best-looking window material. It's natural, solid, goes with your trim, etc… Today, almost all wood windows are "clad" with a lower-maintenance material on the exterior, such as vinyl, aluminum, or fiberglass. You can still find an all-wood window, but I don't recommend it unless you're going for that weathered "Little House on the Prairie" feel on the outside.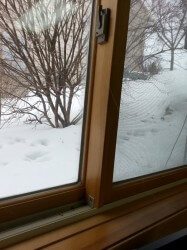 The remaining issue for me is the area where the glass meets the wood at the bottom of the window. New glass packs have helped with condensation and UV damage, but Minnesota winters can eventually create freezing, melting, and a little water damage here and there. They won't get black and rot like the first double-pane windows from the '70s and '80s, but they may need some periodic maintenance. This consists of rubbing them down with steel wool and varnish at the bottom corners unless you keep your humidity level very low to avoid condensation altogether. If you can live with either of those options, you can enjoy your wood windows.
Most wood windows have a 10-20 year warranty (20 on glass, 10 on everything else).  Wood windows have many decorative hardware and grid options to further customize the look you are going for (or to match what was there previously). Go by the same guidelines for upper-level window lines and low U-factors.
Composite
If you melt down vinyl and combine it with wood fiber, you have composite materials. We'll talk more about this in Part 3 since one of the biggest replacement window companies, Renewal by Andersen, uses a composite material called Fibrex. It is more sturdy than vinyl alone and has more of a matte finish. It carries a higher price tag, but it has become a very popular option along with fiberglass.
Fiberglass
The newest window material boasts a lot of advantages: the strongest material, least amount of expansion and contraction, and is basically bulletproof!  Fiberglass does have an impressive sales pitch (even if it isn't really bulletproof). Stronger material means the frame and sashes can be narrower.  A narrower window frame means more light coming through. You can combine fiberglass with real wood, as mentioned above, or you can have all fiberglass. Some fiberglass windows, like Infinity from Marvin, have a stainable interior that is not real wood but sure looks like it.
The only downside to fiberglass is that you will pay more, but many are willing to do that. Fiberglass warranties vary from 10-20 to lifetime.
Once you have the window selected, it is time to tackle the next part of the process: What installation method works best for you?
Insert – Retrofit Install
I only recommend an insert window replacement when the existing window is a double-hung window with wood on the inside and out. The sashes (that slide up and down) can be removed along with the stops to leave a flat frame made of 1″ material that easily accepts a new window. The exterior window trim is typically wrapped in aluminum so everything is low maintenance on the exterior. Sometimes there is some rot in the exterior window sill, but that can be cut out and replaced with new wood and then wrapped. You will lose some glass space with this install.
Full Frame Replacement
If your current window has vinyl or aluminum on the exterior, or it's an existing crank-out window, you should always do a full frame replacement. This means the entire window is removed right down to the rough opening, and the new window is attached with a nailing flange to the exterior of the house. New interior trim is also included, so it is a good time to make a change if you don't like your interior casing or you are changing your color scheme.
A full frame replacement will result in the best install for water-proofing and keeping your original glass size. The downside is the additional expense, which could climb higher if siding on the exterior needs to be removed and replaced to get to the existing nailing flange.  That won't be a problem if the existing windows have trim. If your windows are in a brick opening, the old windows can be cut out by the nailing flange and the new ones can be installed with masonry caulking (but not with nailing flanges unless you want to remove the brick). In those situations, I would recommend a lifetime commercial caulking around the windows as that will be the only line of defense against water intrusion.
Sash Replacement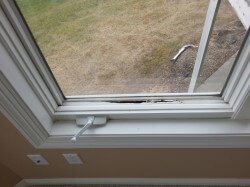 So you have had a lot of condensation, and it has ruined the window sash (the part of the window that cranks out or moves up and down). The wood around the glass is black but the frame looks OK. Is it possible to replace just the sash and save a bunch of money?
Many salespeople will tell you no, the new sashes will never fit right. In some cases, that is true if the openings have shifted over time. In other cases, it works like a charm.
Sash replacement can certainly be an option, but if you have casements (crank-outs), you must ensure the existing window manufacturer is still in business. If so, new sashes can be ordered along with new stops or weatherstrip if needed. That will save money from full-frame replacements, which you would normally do for casements.
For double-hung windows, an entire sash replacement kit can be ordered with new side balancers.  For double-hungs, I prefer the insert window with its own frame to a sash replacement kit.
Every homeowner has a different scenario regarding which install method and window type is right for them. Many homeowners will e-mail me pictures of their existing windows with questions about the best install methods, so I encourage anyone reading this to do the same. Also, My 3 Quotes is a free service, so I'm happy to visit the house and take a look firsthand.
I'll cover the Big Three (Andersen, Pella, and Marvin) in Part 3 of this series.
–

Author: Ryan Carey has over 20 years of experience in exterior remodeling for Twin Cities Homeowners and Property Management Companies.  He is the owner of "My 3 Quotes," a company that provides the free service of collecting 3 competitive home improvement bids for customers.  For more information, visit www.getmy3quotes.com for free
home improvement estimates.