Happy 2016!  I normally don't write "bloggy" type blog posts like this one, but here it goes. To start, sorry for the cliche' title, but at least you know what you're getting with this post. This is just a quick update on what has happened over the last year, and what will be new for 2016. It's been three weeks since my last blog post, which is the longest break I've taken since I started blogging about home inspections back in 2008. Unfortunately, this wasn't so much a break as it was a "broken".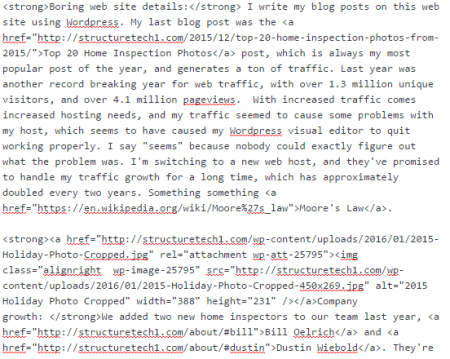 Boring web site details: I write my blog posts on this web site using WordPress. My last blog post was the Top 20 Home Inspection Photos post, which is always my most popular post of the year, and generates a ton of traffic. Last year was another record breaking year for web traffic, with over 1.3 million unique visitors, and over 4.1 million pageviews.  With increased traffic comes increased hosting needs, and my traffic seemed to cause some problems with my host, which seems to have caused my WordPress visual editor to quit working properly. I say "seems" because nobody could exactly figure out what the problem was. I'm writing this blog post with HTML, which is definitely not my thing. The screen shot at right shows what I'm talking about. I'm switching to a new web host, and they've promised to handle my traffic growth for a long time, which has approximately doubled every two years. Something something Moore's Law.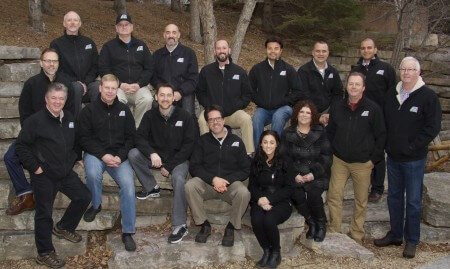 Company growth: We added two new home inspectors to our team last year, Bill Oelrich and Dustin Wiebold. They're both fantastic guys, and I'm proud to have them on our team. We began training our newest inspector at the end of last year, and also hired our first female home inspector this year. She'll begin training with us in February. I was also able to convince my sister Mindy to start working for us full-time this year, mostly to answer the phones, emails, and schedule inspections. This should dramatically cut down on the number of phone calls that go to voicemail. I've decided that this is the year that we renew our dedication to outstanding customer service, thanks to inspiration from the book Delivering Happiness: A Path to Profits, Passion, and Purpose. As good as Lisa is, she can still only talk to one person at a time.
Teaching: Many years ago I did two inspections a day, five days a week. As our business has grown, I've cut that number down more and more to make room for other things like blogging, training other inspectors, re-starting the local ASHI chapter, and teaching continuing ed classes. I currently have three different continuing ed classes approved by the Minnesota Department of Commerce that I teach to real estate agents, and I've been teaching a ton of classes lately. I currently have eighteen CE classes scheduled at various real estate offices over the next eight weeks. I always wanted to be a teacher when I grew up, and now I am. Kind of.
I've always offered these classes for free, but some real estate offices have had concerns about this being a RESPA violation. If I teach CE for free, I'm offering a "thing of value". That's fine to do, but I can't do that in exchange for the referral of settlement service business. I never have and never will, but some real estate offices have been concerned that there might be an appearance of this. In those cases, I have graciously offered to charge money to teach the classes :-).
Drones: The old "new thing" for home inspections was infrared cameras. The latest new thing is using drones to inspect roofs and chimneys that are too high to be accessed with a 28′ ladder, or too steep to be safely walked. I thought this was gimmicky at first, but I've seen enough photos taken by drones to be convinced that there is real value in this service. The only problem right now is that FAA rules don't allow for the commercial use of drones without a pilot's license, and using a drone to inspect a home is clearly "commercial use". I've heard rumors that these restrictions will be lightened up in the near future, so my company purchased a drone (a Phantom 3 Pro) at the beginning of this year.  I've been playing practicing with it regularly, with the intention of incorporating this service into our inspections in the near future. I've only crashed it once so far, and the only resulting damage was some broken blades, which are cheap.  No inspections have been performed with it yet though, of course.
Radio: I've been doing a home improvement radio show with All Around for the last year or so. I'm a guest on the show approximately once a month, and we talk about home improvement and home maintenance. We also take live calls and give advice. The show airs on Saturdays from 12pm to 1pm on News Talk AM 1130. To listen to past episodes, click here: All Around Radio Hour podcasts. I was most recently a guest on the show last Saturday, January 16th. We discussed frost in the attic, condensation on windows, and the wrong reasons to get a home inspection. If you read my recent three-part series on negotiations after the inspection, you probably already know what I had to say on that topic.
That's all for now. If everything goes well with our new web host, I'll be back to regular blog posts next week. Thanks for reading.
Author: Reuben Saltzman, Structure Tech Home Inspections