The Minnesota Radon Awareness Act went into effect on January 1st of 2014. This required home sellers to provide a lot of information about radon and radon testing to potential home buyers, making it basically impossible to buy a home in Minnesota without being told that it's important to test for radon.  And it is.
As intended by this act, the amount of radon tests conducted in Minnesota as part of real estate transactions increased dramatically. I don't have any official numbers, but I can say that the number of tests that my company conducted in 2014 was about twice as many as we conducted in 2013. I've heard other home inspectors express similar sentiments, and I've had several home inspectors in Minnesota ask me about what it takes to start doing radon testing. There's a larger demand for radon testing today.
The Bad News
As one might imagine, the number of unqualified folks conducting radon tests has also increased. Just like home inspections, there are no licensing requirements and no training requirements for radon testing in Minnesota. The EPA has developed standards for radon testing, but there seems to be a lot of clowns out there doing radon tests however they want to. As far as I'm concerned, these tests are worthless or misleading. Allow me to share a few examples.
Radon Monitor in a Crawl Space
I've shared this photo before, but here it is again. This radon test was placed in an uninhabitable crawl space.  Who cares what the radon level in the crawl space is?  The radon test is supposed to be placed in the lowest level in the home that could be lived in; not the crawl space.
Radon Monitor on a Bucket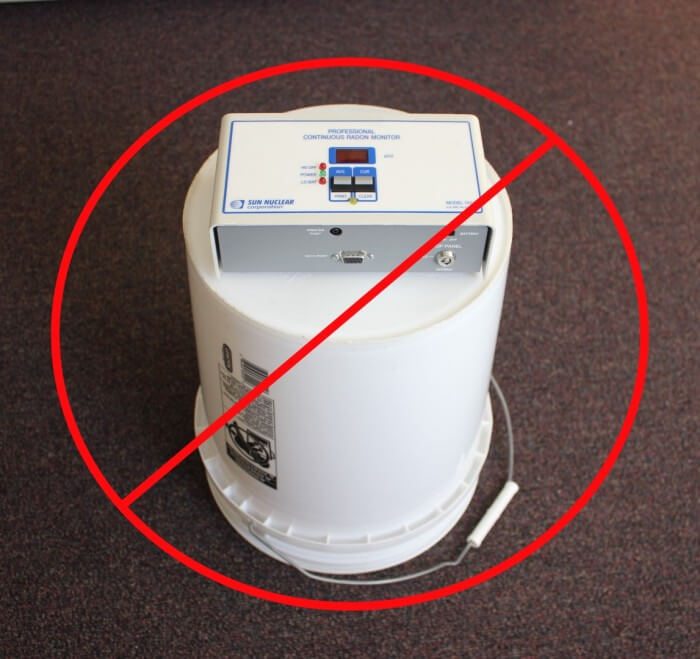 This isn't an egregious error, but it's a very basic mistake that any qualified radon tester should not commit. Radon monitors need to be placed at least 20" off the floor. Most 5-gallon buckets are only 13" high. If you happen to see a radon test sitting on top of a 5-gallon bucket, EPA protocol for radon testing isn't being followed.
Side note: we use 5-gallon buckets to carry our radon monitors around in, and we use little wood boxes placed on top of the upside-down buckets to get the required 20″ height above the floor.  Our radon monitors fit inside the boxes, which fit inside the buckets.  We also keep a 25′ extension cord in the bottom of the bucket.  This works quite nicely.  If you're a home inspector reading this and you're looking for a nice solution, here it is.
Radon Siren "Testing"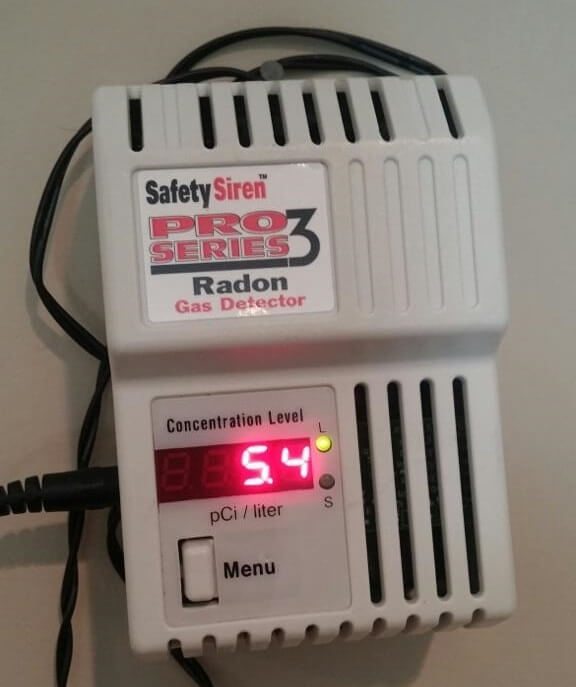 There's a radon siren available online for $129, which collects data while it's plugged in and will give a display of the average concentration, much like a professional radon monitor.  There's apparently at least one home inspector here in the Twin Cities who's using this device to conduct radon tests. Apparently, he or she plugs this device in at the time of the inspection, comes back out to the home some time later, takes a picture of the display on the unit, then sends out this photo as the official radon test results. I'm not making this up. That's where the photo above came from.
While this device might be well and good for homeowners to use in their own home, just the fact that it doesn't produce any type of report should be enough to tell you that no professional should be using this device and charging a fee for it.  If that's not enough, take a look at the list of approved devices for radon testing professionals: http://www.nrpp.info/radon_testing_devices.shtml .  You won't find the radon siren on that list.
Radon Monitor on a Sump Basket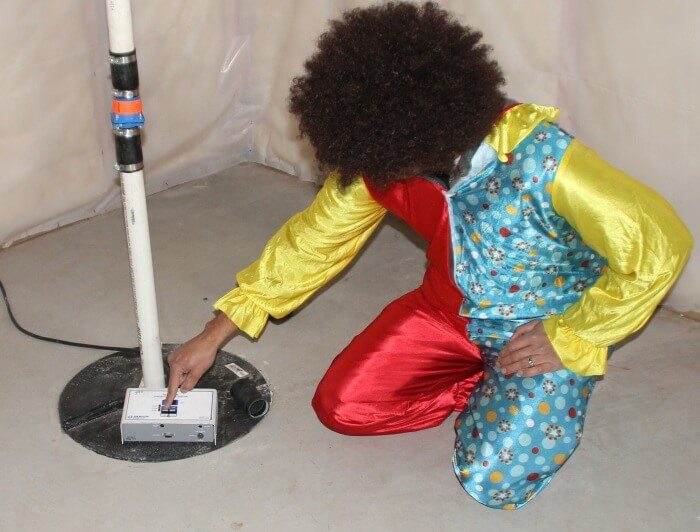 This is the most recent one I've heard about. One of our clients contacted us with concerns about how a radon test was being conducted in her home. The folks buying her house hired a home inspector to inspect the building and conduct a radon test at the same time. The home inspector placed his or her radon monitor right on top of the sump basket lid, and then put a box of the top of that! As you might imagine, the radon test came up very high, at over 18 pCi/L.
First, the radon monitor needs to be at least 20" off the floor, as I mentioned earlier. Second, the radon test shouldn't be placed anywhere near the sump basket; as I've mentioned in past blog posts, sump baskets are actually required to be sealed shut in new construction because this can be a major contributor to radon in the home. Placing a monitor right on top of the sump basket seems like a great way to guarantee high radon levels. Finally, placing a box over the top of this mess is either the result of ignorance or dishonesty.
My Advice
If you're going to hire someone to do a radon test for you, hire a professional who's certified by the National Radon Proficiency Program (NRPP) or the National Radon Safety Board (NRSB). The Minnesota Department of Health also maintains a list of qualified radon measurements professionals, which can be found here: http://www.health.state.mn.us/divs/eh/indoorair/radon/measurement.html. To be added to that list, the individual first needs to be certified by one of the two agencies that I listed above.
If your home is going to be tested for radon as part of a real estate transaction, make sure that the person doing the test will be following EPA protocol for radon testing. Even better yet, insist that the person doing the test is certified by one of the two agencies listed above. This is consistent with what the Minnesota Department of Health already advises for radon testing; it's solid advice.
If you haven't tested for radon in your own home, buy a DIY test kit.  Short term test kits are $9.95 and long term test kits are $21.95 here:http://www.radon.com/sub/mn/ .
Author: Reuben Saltzman, Structure Tech Home Inspections