The general public has been much more concerned about lead in their drinking water ever since the Flint water crisis. Homebuyers frequently ask us about this during home inspections, and NPR had a great piece on this many years ago. Just recently, Saint Paul Regional Water Services (SPRWS) announced a plan to replace all of the lead water service lines in Saint Paul in the next 10 years. This is a huge project, consisting of approximately 26,000 properties. I knew Saint Paul had a lot of these lead lines, but I had no idea the number was so high, representing 28% of Saint Paul homes.
How lead gets into our drinking water
Lead enters drinking water through plumbing fixtures and soldered joints that contain lead, but the biggest potential source of lead contamination is through lead water supply lines. These are the water lines running throughout the city, often from the city water pipes directly into homes, typically entering basements up through the floor. The two cities in Minnesota where I commonly find lead water supply lines are Minneapolis and Saint Paul. As I mentioned in my blog post about inspecting poor water flow, lead water supply lines can be found in Minneapolis homes built before 1932, and in Saint Paul homes built before 1926. I don't have historical information for other cities.
Also, I've never seen lead water distribution pipes inside of a home. As far as I know, there's no such thing.
Home Inspection Standards of Practice
Standards of practice put out by the American Society of Home Inspectors (ASHI) and the International Association of Certified Home Inspectors (InterNACHI) require home inspectors to inspect the interior water supply systems. Does this mean that home inspectors are responsible for inspecting the small stub of water piping that comes into the home if your water meter is located inside the house? I don't know, and I don't think it really matters. The reason it doesn't matter is because both the ASHI and InterNACHI standards of practice specifically exclude the identification of environmental hazards, such as the presence of lead water lines. Home inspectors also don't need to determine water quality.
I repeat: home inspection standards don't require home inspectors to report on lead.
Nevertheless, most home inspectors can quickly identify the presence of lead water piping, maybe from across the room. The first indicator that you may have lead piping is the presence of something called a "wiped joint", which is a big swollen ball of lead at the transition between lead piping and other types of piping.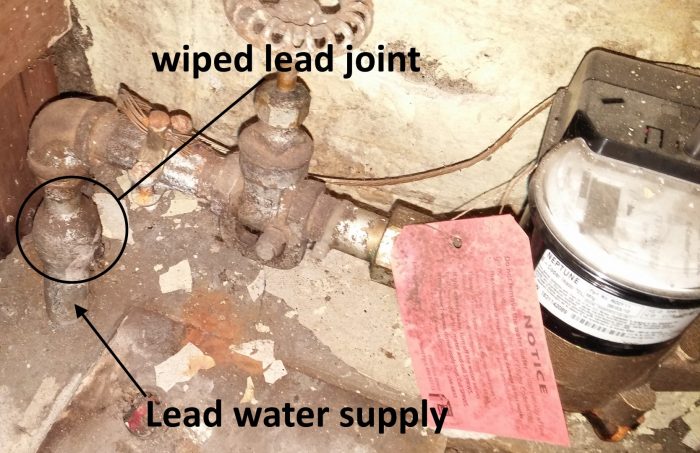 Be aware, however, that these wiped joints can also be found on copper tubing or galvanized steel pipes, so it's not a guarantee that you have lead piping. To know for sure, try lightly scratching the piping with a screwdriver or even your fingernail. Lead piping has a dull finish, but any scratched areas will be shiny, and it's a fairly soft metal. Click on the photo below to see a larger version, which will make the shiny scratches easier to see.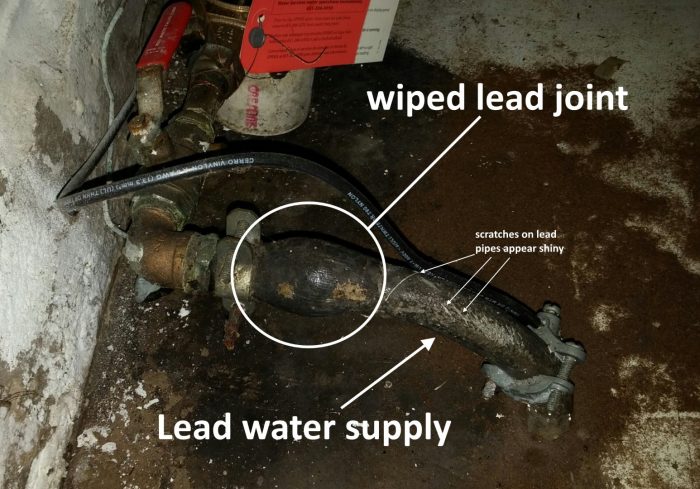 If you're in Saint Paul, check out their comprehensive Service Material Map, showing exactly which properties have lead service lines.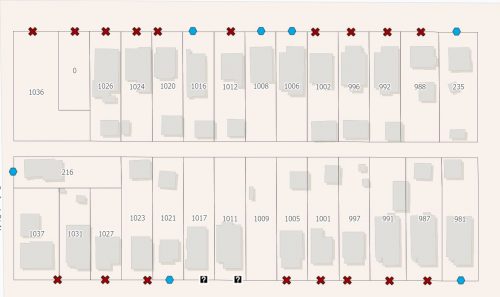 The red "X" means you've got lead. What an awesome tool for homeowners, home buyers, real estate agents, and home inspectors.
Reporting on lead water supply
If home inspection standards of practice don't require me to report on the presence of lead water piping, does this mean I ignore it when I see it? Heck no. Not when it can be so easily identified. When anyone at my company finds lead water piping, we identify its presence in our inspection reports and we tell our clients to do their own research on the topic of lead water lines. I don't want to be the one to say whether or not lead water piping is safe, because frankly, I don't know for sure. I used to think vermiculite insulation was safe if it contained less than 1% asbestos, but I don't think so anymore.
If you're buying or own a home with a lead water supply line, you have three basic choices:
Replace the lead water lines. Replacing lead water supply lines is expensive, but this probably offers the highest degree of protection against lead. More on that topic here: In battle to keep lead from water, St. Paul digs deep. Also, here's a document from SPRWS explaining their lead water line replacement program.
Don't drink the water. If you choose to not drink the water, you'll need to buy your water. The least expensive method would be to refill your own containers.
Drink the water. There are numerous steps that can be taken to minimize your exposure to lead, many of which are listed in this document from the city of Saint Paul, Keeping Lead Out.
Even if the visible portion of the water supply piping coming into the home is copper, it's not a guarantee that the home has copper water piping all the way out to the street. In many cases, the water piping has been replaced out to the curb stop (typically located near the curb), but NOT all the way out to the city trunk, which might be located across the street. To know which side of the street the city main is on, look for fire hydrants. If they're on your side of the street, then so is the water main. To know for sure what type of piping is run all the way out to the main, contact the water department or use the map I linked to above for Saint Paul.
My two cents
If I had a lead service line providing water to my house, I'd follow DMB's advice: don't drink the water. There's no safe amount of lead for human consumption, and the risk for lead would be higher than I'm comfortable with.