I get a lot of training questions from aspiring home inspectors about how to get into this business and how to get trained. I have some advice for people who don't get hired by a company with an established training process, but first, I'd like to share our internal process here at Structure Tech. We've worked hard at developing a repeatable training process, largely by following advice found in The E-Myth.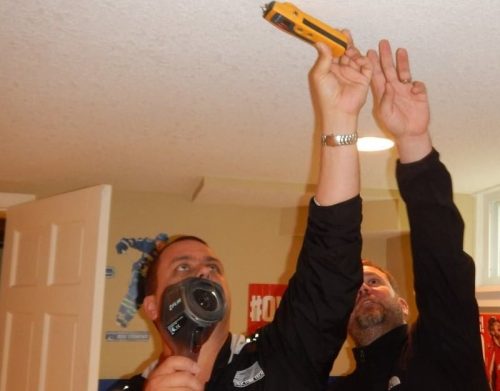 The Structure Tech training process for home inspectors
In the interest of transparency and to help give advice to any other multi-inspector company owners out there, I'm sharing the Structure Tech training timeline, omitting a bunch of steps that are specific to my company.
Pre-hire
Background check completed. First reading assignment given, which is all blog posts tagged with '!Study Guide'. These can be found at https://structuretech.com/category/study-guide/ . Subscribe to this blog and read every new post going forward.
Week 1:
Read the ASHI Standard of Practice. This is the minimum acceptable standard for an ASHI home inspection. This should be read and re-read regularly.
Begin attending two inspections per day with other Structure Tech Inspectors.
Week 2:
A ton of reading related to internal home inspection policies and procedures, as well as the entire library of our internal company knowledge base. Here's an example of one of those knowledge base articles: Attic woes: My latest boo-boo. #schadenfreude
Weeks 3 – 12:
Read the following:
2 – 6 Months
Start attending one inspection per day, and start typing reports. The final report is then sent to the primary inspector, and the report is reviewed for accuracy, corrected as needed, and then sent to the client. The process of learning how to properly write reports will take a long time. This process has never gone quickly for anyone.
The Structure Tech Home Inspection Report Writing Style Guide must be followed.
Not only must the new inspector not miss anything during their inspections, but their reports must also be consistently error-free before they start inspecting on their own. This is a very challenging task.
Lastly, they need to pass the National Home Inspector Exam, which is one of the requirements to getting full certification with the American Society of Home Inspectors (ASHI), ASHI Certified Inspector.
I've found it's nice if my home inspectors have had some formal training, like a one- or two-week school, but it's not necessary. The most important part of this job is on-site training and learning how to write reports properly, which only comes from intense peer review.
By the time our inspectors start inspecting on their own, they'll have conducted between 120 and 160 home inspections, on average. They don't go on their own until I'm confident in their ability to recognize problems, and their ability to communicate those findings verbally and in writing. If I wouldn't trust one of my inspectors to inspect a house for a close friend or family member, they're not ready to go out on their own.
Training for everyone else
So how are solo home inspectors supposed to get the needed training to go out on their own? They need to train with experienced home inspectors. That's it, that's all. There's no school that will give this type of training. Sure, some schools might send home inspectors along on a handful of real-life, group inspections, but that's just the first rung on the 28-foot training ladder.
There is currently no formal training or apprenticeship program for home inspectors here in Minnesota, but I think there ought to be. Here at Structure Tech, we began offering a formal hands-on training process to aspiring home inspectors last year, and we've received very good feedback on the program. More on that topic here: Home Inspector Training.
Author: Reuben Saltzman, Structure Tech Home Inspections