This is a guest blog post by Ryan Carey, of My 3 Quotes.
Tell me if you can identify with this scenario- You bought your house before 2008, when values were at their most inflated. Your credit isn't bad, but you still don't have any equity since your house value plummeted 30-40% after you bought it. Now you're looking around the house and notice that the wood windows are turning black where the glass meets the wood. You finally go outside after this awful winter to see your masonite siding deteriorating where the snow sat up against it. When you go back inside, you are reminded that the last time your kitchen was in style there was a kid sitting in it eating Frankenberry and watching "The Great Space Coaster" on a TV with a big knob to change the channels.
You need to get work done, but you don't have a pile of cash sitting in the garage. A home equity line of credit may get you the best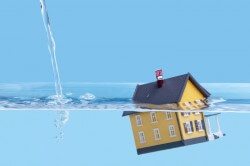 interest rate, but that doesn't seem possible with no equity. Don't worry. There are more financing options than you think to get started on your much-needed improvements, even if the journey of your home's equity reminds you of a certain movie about a doomed ship with Leo and Kate on board.
Unsecured Options-12 month no interest
Nearly every contractor that comes to your house will have a number of unsecured financing options that are not secured by the home's mortage, but rely on your credit score. They will have options like Wells Fargo, GE, or Ennerbank to get your project moving. One of the most popular programs is "12 Month No Interest." This is a great plan if you actually plan on paying it off before the year is over. If you don't, interest will come back to day one at an obscene interest rate like 24.9%. You are better off locking in to one of their loans with a fixed rate if you won't have it paid off in time. With an unsecured loan (not secured by the home mortgage), the interest rates are typically in the 7.99% to 9.99% range.
There is one important thing to know with any of these plans, however. The contractors have to pay a fee each time they get used. You don't get interest-free money from any bank in any situation, so there is a fee that the contractor pays to use it. It could be in the 5% range, which can add up fast on a larger job. Therefore, if a contractor offers interest-free financing and you WON'T be using it, it is a very fair question to ask "Do I get an extra discount if I don't use your financing, since that costs you money?" You could ask the same about a cash discount vs credit card use, since contractors have to pay a fee to use credit cards as well.
MHFA and CEE
If you need improvements done on your house, you should get to know these initials well. The MHFA (Minnesota Housing Finance Agency) and CEE (Center for Energy and Environment) are great places to look for home improvement financing. The MHFA also is involved with many other programs, such as first-time home buyer loans. They show a list of lenders that administrate their loans, so there is always one close to your area. They work with the Fix Up Fund, which allows loans of up to $50,000 at 5.99% interest rate for households with less than $96,500 of yearly income.  There is also an unsecured option at 6.99% up to $15,000.
The MHFA and CEE also deal with Energy Conservation Loans for improvements that help with energy bills, which has NO INCOME CAP and has an interest rate of 4.99% for up to $15,000 of loans. This includes windows, insulation, air sealing, furnace, A/C, water heaters, etc… This loan has been expanded to include "accessibility" improvements for the disabled, such as ramps, widening of halls or doorways, adding hand rails, bathroom fixture modifications, and moving outlets or switches.  There are secured and unsecured options for this loan.
For those of us who are a little short on home equity but would like the secured option- The Fix Up Loan has a secured loan option at 5.99%, but the loan can be based on %110 of the house value AFTER the improvement. Usually, they can approve about half of the value of the home improvement for the home appraisal. These are VERY general terms, some projects may get more immediate value, and some may get less.
CEE
The CEE is one of the lenders that works with MHFA programs, and they have some of their own as well. They have a customer friendly website that allows you to see what they have available for your city. Click on the "Find Financing" tab, and it will ask you to enter your city. It will then show all programs available for you. Some cities have funds available at different times, but residents may not have heard about it. Some funds end up being an up-front loan that homeowners don't need to pay back until they sell the house.
The CEE also has the Home Energy loans that have no income cap and attractive financing rates. They have applications you can download from the site and send in to their loan officers for processing. The nice thing about home energy loans is that you are doing improvements that should cut down on energy bills to help offset your monthly payment.

City Websites
With some of the bigger cities, it is also a good idea to check out the city website and look up "Home Improvement" programs. The city of St Paul is currently offering loans to people in two neighborhoods with high foreclosure rates. They don't have to be paid back until the house is sold. Funds like that are available for a certain time, then they're gone.
I hope you find this helpful. As always, you need to be able to afford your improvement and saving up beforehand and paying cash is the best way to avoid fees and interest. However, if your house is in dire need of improvement and financing is needed, there is more than one way to skin that proverbial cat. As always, I'm available for questions through the website below.

Ryan Carey has 15 years of experience in exterior remodeling for Twin Cities Homeowners and Property Management Companies. He is the owner of "My 3 Quotes," a company that provides the free service of collecting 3 competitive home improvement bids for customers. For more information, visit www.getmy3quotes.com for free home improvement estimates on window replacement and more.