Hand showers are usually installed improperly –  I estimate that at least 95% of the hand showers that I inspect have the same installation defect.  Looking at the photo below, can you guess what it is?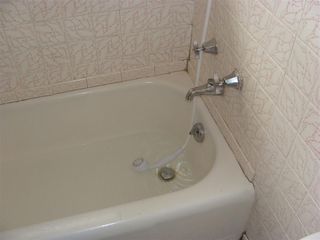 If you said outdated tile, you would be wrong.  That has nothing to do with the hand shower!  The problem is that the hand shower creates a potential cross-connection with the potable water supply for the city.  If the bath tub were to fill up with sewage or some other nasty substance, the hand shower could come in contact with it.
The most obvious way to correct this is to replace the hand shower with a standard shower head that doesn't have a hose, but that's not your only option.  If you own a hand shower and you're not willing to give it up, you have several other ways to correct this.
Install A Backflow Preventer This is probably the simplest fix.  Just buy a backflow preventer and install it in-between the pipe coming out of the wall and the shower head.  Most (all?) shower heads have 1/2″ standard pipe thread.  Home Depot sells a backflow preventer with 1/2″ standard pipe thread for $6.97 – it looks like a much cheaper version of the one shown below.


Install a Shorter Hose If the hose for the hand shower isn't long enough to allow the shower head to sit in contaminated water, there's no potential for a cross-connection.   The only problem is that I can't seem to find hand shower hoses that are shorter than five feet long.
Install Dual Inline Check Valves on the water supply lines that feed the shower.  This is probably the most difficult way of dealing with this issue, but for the sake of giving all of the options that I can think of, I'm tossing it out there.


If you live in Saint Louis Park or Bloomington, you'll have to fix this when you have your pre-sale inspection done.  For Truth in Sale of Housing evaluations, Minneapolis only requires that handheld showers have a hook to hang on that's above the spill line of the fixture.  I guess they trust their residents to be a little more responsible (ha ha).
Reuben Saltzman, Structure Tech Home Inspections – Email – Home Inspector Saint Louis Park