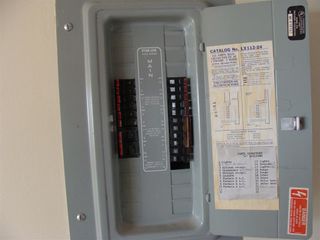 Federal Pacific Electric Stab-Lok panels have long been known to be problematic, and I've always called them out as a potential safety hazard, but for the past several years I've been much more 'aggressive' with the way that I report them.  While performing a home inspection, I used to recommend having these panels evaluated by an electrician and replaced if neccessary, but now I just skip the whole recommendation thing.  I tell my clients to have the panels replaced.
To understand why, here are a few key points:
Federal Pacific Electric (FPE) sold millions of panels between the 1950's and 1980's.
Testing by the Consumer Product Safety Commision has shown these breakers to have an unacceptably high rate of failure, which creates a safety hazard.
Testing has proven that virtually every panel installed in the United States contains defective breakers.
FPE falsified their UL testing, making their UL listing void.
Approximately 1 out of 3 breakers are defective.
If a breaker fails to trip when it should, the wires in the home that are supposed to be protected can start on fire.
So why don't I recommend having an electrician evaluate the panel?  There's no point.  Some electricians are under the impression that FPE panels are safe if they can turn every breaker on and off, if every breaker is tightly attached, and if there is no evidence of overheating or scorching in the panel.  These things would be dead givaways that there is a problem, but to truly know if the breaker would trip when it needs to, each breaker would need to actually be tested.  This testing would be more expensive than having the entire panel replaced.
In the past, I told my clients to have FPE panels evaluated by an electrician. I followed up with many buyers that bought homes with FPE panels because I was curious how many panels actually got replaced, and I found two typical outcomes: One – the buyer's agent would tell the buyer that I'm just trying to cover my butt, the panel has been fine for the current owners for the last 30 years, so it shouldn't be a problem.  Two – the buyer would ask the seller to have an electrician evaluate the panel for safety, and the seller would find an electrician willing to say the panel is safe.
I started to wonder what electricians are actually saying about these panels, so I sent out emails to 50 local electricians, asking them how they test or evaluate FPE panels.  You'd be surprised at how difficult it was to find 50 email addresses of local electricians.  Here are the responses I received:
Twelve electricians said they don't look at these panels or test them, they just consider them a safety hazard and say they should be replaced.  I had several electricians call me and share some great personal stories and anecdotes with me.
Four electricians said that these are poorly made panels that are prone to failure, but replacement is only recommended, not required.  They look for loose breakers, scorch marks, or burn marks.
One electrician said that he overloads a random number of breakers past their rating to see if they'll trip.  I like this guy's hands-on approach, but this is probably an unsafe practice and it won't tell you anything about the safety of the panel unless every single breaker is tested.
Thirty-Three didn't respond.
The bottom line is that every single electrician that responded was familiar with the hazards associated with FPE panels, and most of them recommend replacement outright.  About half of the electricians referenced a web site that has some excellent info on the hazards of these panels.  To read more about this issue, check out this detailed report on FPE Stab-Lok panels by J. Aronstein.
Post update 10/03/12: Check out this recent news clip on FPE Stab-Lok panels.
Post update 4/5/2013: Here's another article on FPE Panels by CodeCheck authors Douglas Hansen & Redwood Kardon, updated 12/22/12 .
Post update 2/09/14: Another news clip about these panels.

And another:
Post update 5/10/18: Jesse Aronstein urges CPSC to take a hard-line stance.
Author: Reuben Saltzman, Structure Tech Home Inspections