Fenix has a new headlamp to beat all headlamps, called the HM71R. It's very similar to the HM61R headlamp, but it comes with a more powerful battery, and it boasts a max lumen rating of 2700, which is blinding at close range.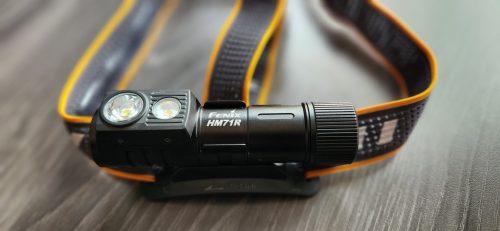 Front-heavy
Most headlamps have a battery pack in the back and a power cord connected to a lamp in front. Instead, the HM71R is a right-angle detachable flashlight that clips into a headband.
You sacrifice a little bit in balance because all of the weight is in front, but let's be honest; it's not a ton of weight. It's 6 oz, or 7.5 ounces including the weight of the headband. For comparison, my Fenix HP25R headlamp weighs 8.5 ounces, and it has a smaller battery.
When I compare the weight of the balanced HP25R to the front-loaded HM71R while wearing them on my head, I can't tell much of a difference. In short, I have no problem with the extra weight at the front with the HM71R.
Detachable
Because the light is self-contained, you can detach it from the headband using their patented quick-release to use it as a standalone right-angle flashlight. It has a clip to attach to a pocket and a strong magnetic end to mount or hang the light to use it as a worklight. Because it's detachable, this is now the most versatile light in my collection.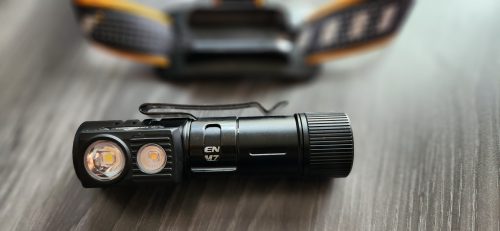 Compact
They did a great job of making this light super-compact. My go-to flashlight is the TK16, which is a full 1.5″ longer than the HM71R.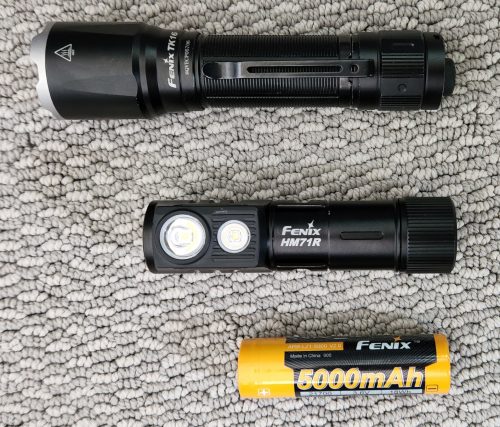 This makes it easy to carry in your pocket when detached from the headband.
Power and runtimes
It comes with a 21700 battery, rated at 5000 mAh. At full turbo mode of 2700 lumens, it'll run for a few minutes straight before dropping down to 800 lumens automatically. It'll run for 5 hours at 800 lumens in spotlight mode or up to 400 hours at 5 lumens in floodlight mode. It also has an external USB-C charging port, and an LED battery indicator.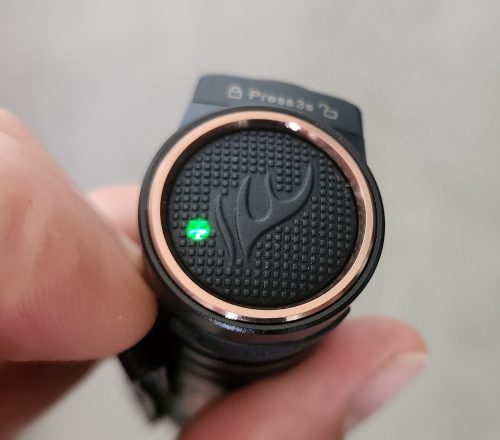 Drawbacks
The head of the flashlight gets quite hot in turbo mode, like any other flashlight. The difference is that the control button is located right next to the bulb, so you're forced to put your hand in the hottest part of the light to operate it.
And one big annoyance is that it goes to spotlight mode every time you turn it on; to get to floodlight mode, you have to hold the button down for a second. After that, you get the lowest floodlight setting, and you have to hit the button three more times to get to the brightest setting. So if you like using the highest floodlight setting, here's the button sequence: One-second push (on) –> One-one push (switch to floodlight) –> three taps (increase to brightest setting). That gets old very quickly. This light should have been designed to remember your last setting or have a second button… or something to make it easier than this.
Images
I took several photos with a DSLR camera on full manual exposure to make sure the image comparisons were accurate. These were all in floodlight mode only, getting up to 500 lumens.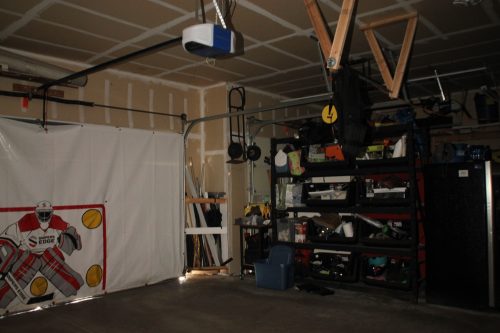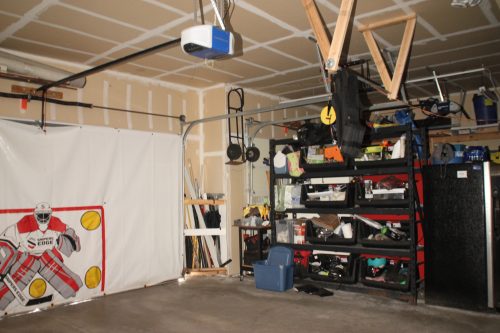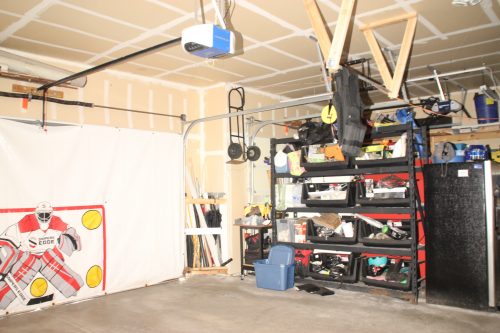 To see what it looks like in spotlight mode, check out my video above.
Conclusion
This an extremely powerful light with a battery to match. The headlamp is great, but because it's detachable, it doubles nicely as a right-angle flashlight. Despite the drawbacks, this is hands-down the best headlamp I've ever owned, and it retails for approximately $120 on Amazon.