I've discovered a dryer transition duct that is far superior to anything else I've ever seen – it's called DryerFlex.  I found this product while writing a recent blog post on dryer transition ducts, and I actually mentioned it at the end of that post.   The DryerFlex dryer transition duct is a cross between foil and semi-rigid aluminum, but it outperforms both of those materials in every way possible.
The video below, made by the manufacturer of this product, does a good job of comparing this material to foil and semi-rigid dryer transition ducts.
At the end of the video, they say they're confident this product will be rapidly adopted and become the industry standard.
After testing this product myself, I believe it.
To start my testing, I used the same test methods that I used to test the other dryer transition ducts – I filled the duct with shredded paper, started it on fire, then used a wet/dry vac to fan the flames.  I also tested a rigid metal duct made from thin-gage aluminum, just for the heck of it.  Rigid metal is approved by code to use as a dryer duct – not a transition duct, but an actual duct.  I did this by connecting two two-foot pieces together.
Solid Aluminum Duct
As you can see in the photo below, the solid aluminum duct failed where the two pieces connected together, but only after I had burned through most of the paper in the duct.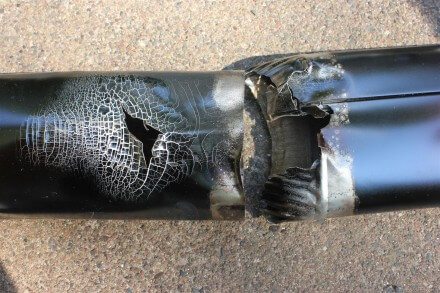 DryerFlex Transition Duct
The results of my burn test with the DryerFlex duct were quite surprising… and unfortunately, I don't have any good photos to show you.  It was a very boring test, because I burned through all the paper and the DryerFlex duct never failed.  I couldn't believe it.  The photo below shows the DryerFlex material laying on the ground after the test.  I bent it up just to show that it was still capable of holding it's shape.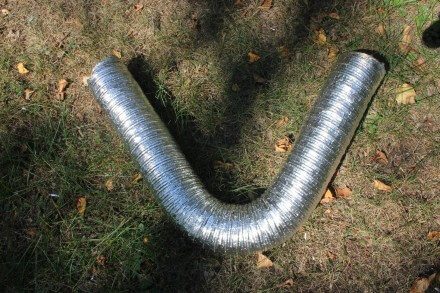 Because my testing method was subject to so much variability, I tried a more controlled burn test to compare different materials against the DryerFlex.  I held a torch 2″ away from each duct and timed how long it took to burn a hole through the duct.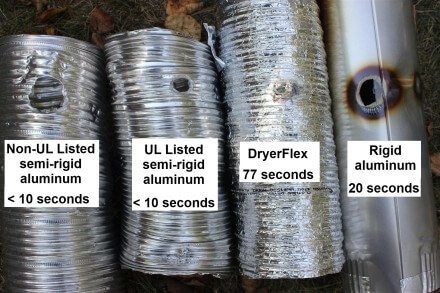 As you can see, the DryerFlex material outperformed the rigid aluminum duct by nearly a factor of four.  That's some tough stuff.  Dryerflex is a far better dryer transition duct than anything that's available at home improvement stores.  The price is right too – at $6.60 for a 4′ section and $11.99 for an 8′ section, it costs about the same as the other products.
My only complaint with this product is that it's not available  at home improvement stores.  You can only purchase this stuff directly from their web site, where you might pay more for shipping than you do for the actual product.  If the manufacturer ever gets to the point of selling this stuff in home improvement stores for a comparable price, there would be no reason to ever buy a different product.
POST UPDATE 2/3/16: Dryerflex is now being sold under the GE name at Home Depot for $25.  Unfortunately, nothing on the web site says "Dryerflex", and the description does a completely inadequate job of selling this product.  The Q&A section on their web site even includes a comically unhelpful answer from The Home Depot explaining why this product is so much more expensive than other dryer transition ducts.  Check it out here: Model # PM08X10085DS
Reuben Saltzman, Structure Tech Home Inspections