If you watched the news this weekend, you probably heard about the deck collapse that happened in Coon Rapids on Friday.  On WCCO news, they even had an expert speculate that the deck collapsed because it wasn't properly secured to the house.  When I hear news stories about a deck collapses, they usually say they'll come back to the story once they learn what the problem was, but they never do…
so I decided to inspect this Coon Rapids deck myself.  Here's what I found:
Epic Fail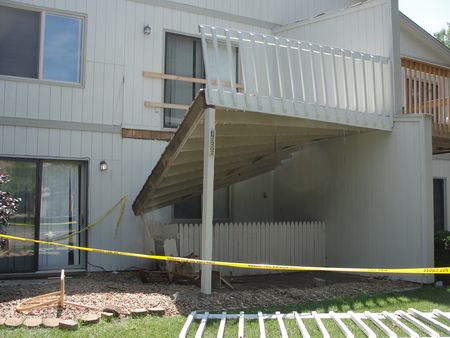 According to WCCO, there were only five people on this deck when it collapsed.  The problem wasn't that the deck was improperly attached to the house – this deck was completely missing a post.
I marked up two photos to show exactly what went wrong.  Click on the photos to get a large version.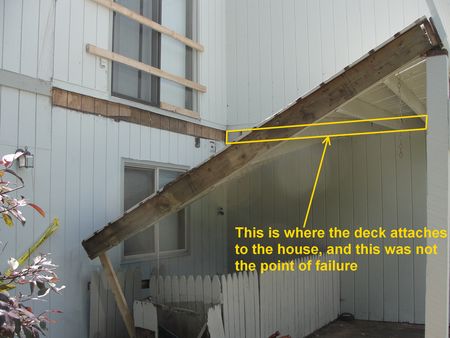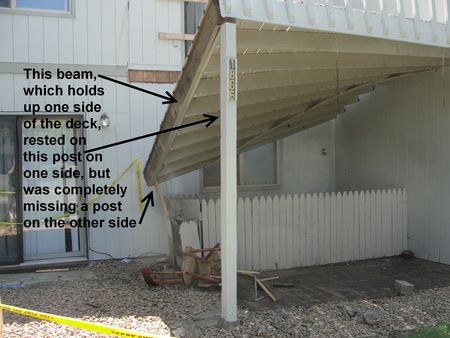 As you can see, one corner of the deck wasn't help up by anything.  The floor joist that was closest to house is what was actually holding up that entire corner of the deck.  It's a wonder this deck even supported it's own weight.
While most advice about deck safety deals with proper bolts, nails, brackets, etc, it's just as important to take a step back and look at the big picture.  Proper nails and bolts aren't a substitute for a proper load path back to the ground.
Reuben Saltzman, Structure Tech Home Inspections – Email – Minnesota Deck Inspections