One of the biggest sources of contention that I regularly deal with during inspections of newer houses is whether or not a sealed attic access panel should be 'broken' to access the attic; more specifically, whether or not I should be allowed to break the seal.  If you're not sure what I'm talking about, here's a photo of an attic access panel. To understand this issue, you need to understand why this panel is here and why it has been sealed.
First, the access panel is here because it is required by the Minnesota State Building Code.  The panel is here for me (or anyone else) to use to get into the attic to inspect it, or to do work.  That's it, plain and simple.  The Minnesota State Building Code, section R807.1 says
"…an attic access opening shall be provided to attic areas that exceed 30 square feet and have a vertical height of 30 inches or greater."
This covers just about every attic space.  Outside of Minnesota, the building code will typically read the exact same way, as this is taken from the International Residential Code.
If it's required, why is the panel sealed?  In a new home, the panel only gets incidentally 'sealed'.  The panel does not get attached to anything; it just gets set down on the opening. When the ceiling finish is applied, which is often spray texture, the seam between the panel and the rest of the ceiling gets covered over.  This is what people are referring to when they say the access has been 'sealed.'  There is very rarely any caulking or adhesive keeping this panel in place.
This can become a subject of contention when I inspect a house where no one has been in the attic since the ceiling finish has been applied… or as most people say, the access has been sealed.  I say 'sealed' too, just because it's easier than saying "incidentally covered over with a finished surface."  My inspection of the attic is a major part of a home inspection, and it's important for buyers to know about any defects in the attic.  This is a place that homeowners may never look at as long as they own their home.  For this reason, I break the seal on just about every home I inspect, but I never do this without permission from the buyer.
Post edit 3/6/18: I've changed my stance. We will open the attic provided the seller gives permission. See https://structuretech.com/attic-inspections-sealed-access-panels/  for more details.
The biggest sources of contention come from parties attending the inspection that are under the impression that attic spaces in new homes don't need to be inspected.  Well, by that logic, new homes wouldn't need to be inspected at all.  A large portion of the problems I find in new construction homes occur in the attic.  Just for fun, here's a photo I took at a 2004 built Minneapolis townhouse – yes, this attic was completely uninsulated.  Don't listen to anyone that tells you new attics don't need to be inspected, or that attic access panels shouldn't be opened.  They're not looking out for your best interest, or they've been misinformed.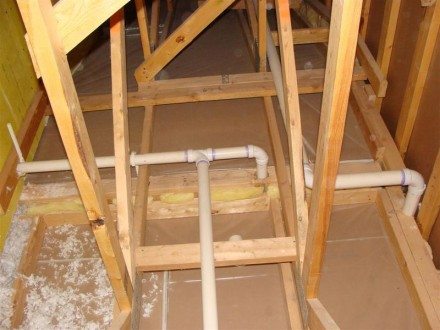 The other common argument I hear about not going in the attic is that the panel will look bad after I open it.  This just isn't true.  If a knife is used to cut the panel open, it will usually leave a noticeable scar in the ceiling, but if the panel is lightly bumped open, it will usually set back down and look almost identical to the way it did before I opened it.  Much of the time, you can't even tell the difference between a sealed and unsealed panel unless you look closely.
The bottom line is that attic access panels are there for the attic to be accessed, and this is something that should be done at every home inspection.  If there is any concern over air leaking into the attic, this can be addressed with about ten cents worth of caulk.
Reuben Saltzman, Structure Tech Home Inspections – Email– Minneapolis Home Inspections