Just last week, I was telling some of my neighbors to watch out for cheap AC tune-ups, and I told them about the time back in 2013 when I had one of the larger HVAC companies in the Twin Cities come out to my house to do a $29 AC tune-up.  I think it's a great story that's worth repeating and it's the right time of the year, so I'm re-blogging this old post.
In last week's blog post about professional AC maintenance, I mentioned at the end to beware of those super-discounted pre-paid coupons for AC tune-ups.  If you don't know what I'm talking about, check out Amazon Daily Deals, Groupon, Sweetjack, or google "Daily Deals".
More out of curiosity than anything else, I purchased a pre-paid coupon for a $29 AC tune-up. I didn't expect much, and it turns out I was right not to.  I had this done about a month ago when it was still too cool outside to need to use my air conditioner.
Scheduling the appointment was easy, and the tech arrived on time.  He was professionally dressed, wore booties when inside the house, and was very courteous.  I'm pretty sure he was also a rookie; when my wife let him in to the house he asked her "What brings you in today?"
The tech spent about 45 minutes going over the interior and exterior components of my air conditioner.  I didn't want to make him nervous, so I just left him alone to do his thing.  I don't know exactly what he did during this time, because everything was already very clean and well maintained, but he did end up getting caught in the rain and got pretty darn wet.
When he was done with everything, he brought his iPad inside and made his pitch.  He regretfully informed me that my system was very low on refrigerant and was not cooling at all.  I was quite surprised, because it was working just fine earlier that day when I tested it.  Huh.  I decided to keep that detail to myself.
The tech went over prices for new air conditioners as well as furnaces with me.  My existing furnace is an 80% efficient 80,000 btu furnace, and he recommended a larger 95% efficient furnace.  If you know anything about sizing furnaces, you know that this makes no sense at all.  Click this link for info on why furnaces shouldn't be oversized.
I managed to keep a straight face and ask "If I'm going with a higher efficiency furnace, wouldn't I want to stay with the same size or go smaller?"  He said no, you always want to go bigger.
"How come?"  I asked.
"It heats your house better."  He replied confidently.
I asked if there was any way to fix my air conditioner, and he said he could but it would only be a "band-aid" option.  He could add refrigerant to the system to make it work again, but he also explained that because my air conditioner uses an older type of refrigerant, he would need to add a tracer dye to help locate any potential leaks, which is now the law (not true).
The cost of this "band-aid option" was $617.  I was so shocked at this dollar amount that I asked him to email me that quote.  He said he wasn't able to email it, but he let me take a photo of his iPad screen which showed their different service options.  The most expensive 'solution' was a 5-year service plan for $4,101.  I kid you not.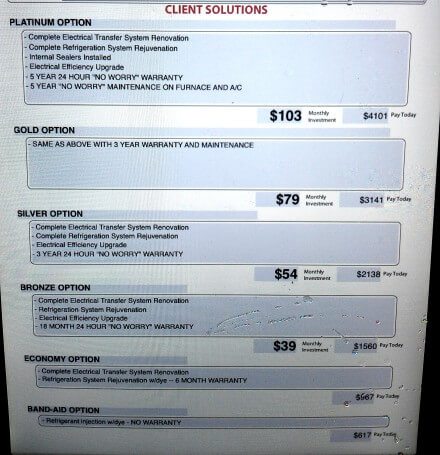 Adding refrigerant should cost way less than that, dye is not required, and most importantly, my system was working perfectly.  I tested it again after he left just to make sure, and it was working fine.  What a joke.
Post update, 7/28/2015: My system is still working fine today, over two years later.  Nobody has "serviced" it since.
If you need to hire an HVAC contractor, my advice is to ask friends and family for a recommendation.  Also, check out reviews on Angie's List, Yelp, and Google Local.  You get what you pay for.
Author: Reuben Saltzman, Structure Tech Home Inspections