The Twin Cities real estate market is crazy insane right now, and it seems like everyone is skipping the home inspection to make their purchase agreements more attractive. But it only seems like it. Homebuyers are still getting home inspections, and many real estate agents are pulling out all of the stops to help make sure their clients aren't skipping this important step in the homebuying process.
When people skip the home inspection, they often regret it later.
View this post on Instagram
Today I'll share the tips and tricks that top agents are using to make sure that a home inspection can still happen, even in this crazy market.
Get a home inspection
before

you submit an offer.

While the home inspection traditionally happens after an offer has been accepted, that's not the only way to do it. We recently had Rhonda Wilson on our podcast to discuss the success that her clients have had with getting a home inspection before submitting an offer. She shared the story of her clients winning a bidding war, even though her clients didn't submit the highest offer.

In a typical market with home inspectors booked out a week, this isn't a viable option. But home inspectors aren't booked out a week anymore. Well, at least we're not, and I talk to a lot of other home inspectors, and it seems that no one else is either. We're frequently available for next-day inspections, as well as occasional weekend inspections.
Submit an offer with a one-day inspection window.
Simply specifying an extremely short inspection window has helped many homebuyers get their offer accepted. As I mentioned in the previous section, this often means a one-day window to get the home inspection done.
Submit an offer contingent upon a home inspection, but make it clear you're not going to nitpick.
Many agents today have their clients submit offers that are contingent upon a home inspection while making it clear that this isn't about nitpicking. This is about looking for any major show-stoppers that would affect someone's decision to purchase a property. If any negotiations are to take place, it will only involve items needing repair over $5,000.
Submit an offer contingent upon an inspection, but make it only a pass/fail inspection.
With this strategy, the home inspection is only used to get out of a purchase if there are some nasty surprises found. If the home sellers truly know the condition of their house and they've disclosed what they know, there should be zero risk of a deal falling apart after the home inspection. There won't be negotiations about anything as a result of the home inspection.
The buyer may also promise to not tell the seller about the results of the inspection. This way, if the deal falls apart, the seller wouldn't need to disclose what's wrong with their house to the next set of buyers.
Submit an offer that is 
not

contingent upon a home inspection.

Even if you submit an offer that isn't contingent upon a home, it doesn't mean you can't still get a home inspection. We've done these for numerous homebuyers who not only want to know about the condition of their future home, but they want to know if there will be any major show-stoppers. The worst-case scenario would be that we uncover some major unknown stuff about a house and the buyer pulls out of the deal, forfeiting their earnest money. In these cases, the buyers felt it was much better to risk their earnest money than to complete a purchase completely blind.
Get a Walk-Through Consultation.
Ok, this isn't a home inspection, but it's still better than nothing. Also known as a walk-n-talk, it's an opportunity for you to bring a professional set of eyes to a showing. We've offered this service for a long time, but it has exploded in popularity over the last year.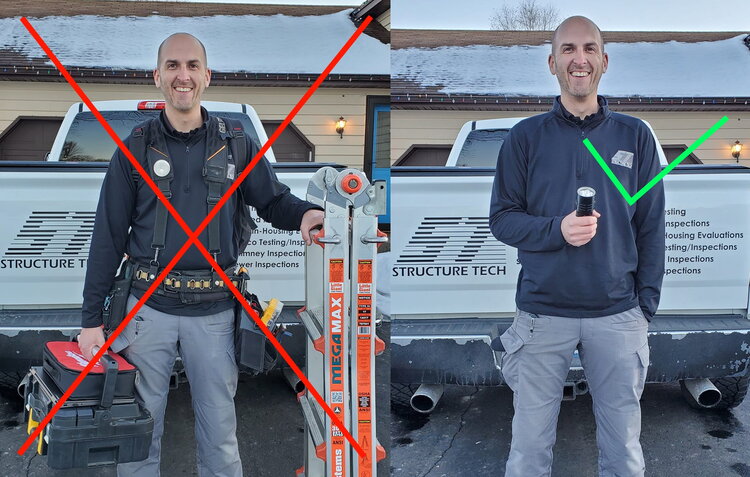 Home inspections can happen after the closing, too.
Even if you've already purchased a home without a home inspection, this doesn't mean you need to stay in the dark about the condition of your home. A lot of our business today is coming from existing homeowners looking for home maintenance inspections. These are typically buyers who have recently purchased a home without an inspection, and they want to know about any potential surprises that came with their new home.
Summary
I chatted with Sharlene Hensrud on this topic, and she shared with me that communication is huge when it comes to getting an offer accepted with a home inspection. She always communicates directly with the listing agent before submitting a purchase agreement on her client's behalf. Sharlene said she gets the best response when openly talking with them on the phone. She'll ask upfront how the seller feels about an inspection, and she can usually tell by the tone in their response whether an inspection request will be an issue. The responses she gets to this question run the full spectrum, and I'd call this just one more reason to work with an experienced real estate agent.
Sharlene also mentioned to me that while it may seem attractive to a seller to not have a home inspection done at all, reality has proven otherwise. To quote Sharlene:
I also emphasize how an inspection also protects the seller from issues that could arise after closing… I even had one seller last year who accepted an offer without an inspection… when the buyer brought up concerns after closing she said she would never again accept an offer without an inspection.
There are still plenty of transactions where buyers get a home inspection; it just takes a little bit more creativity to make it happen. Do you have any tips to share? Experiences to share, good or bad? Please leave a comment below. Thank you!
Also, please check out yesterday's podcast where we discuss this topic at length: