Over the past two weeks, I've had numerous people share a recent home inspector-bashing article with me. This article gave some unsurprising statistics followed by two anecdotes of home inspectors who were probably bad at their job. There are two versions of this article floating around; the first version is basically an admonishment about home inspectors giving incorrect information. The second version is about 25% longer and has some patently incorrect information. Unfortunately, this article has been picked up by several news outlets, helping to redistribute this bad information.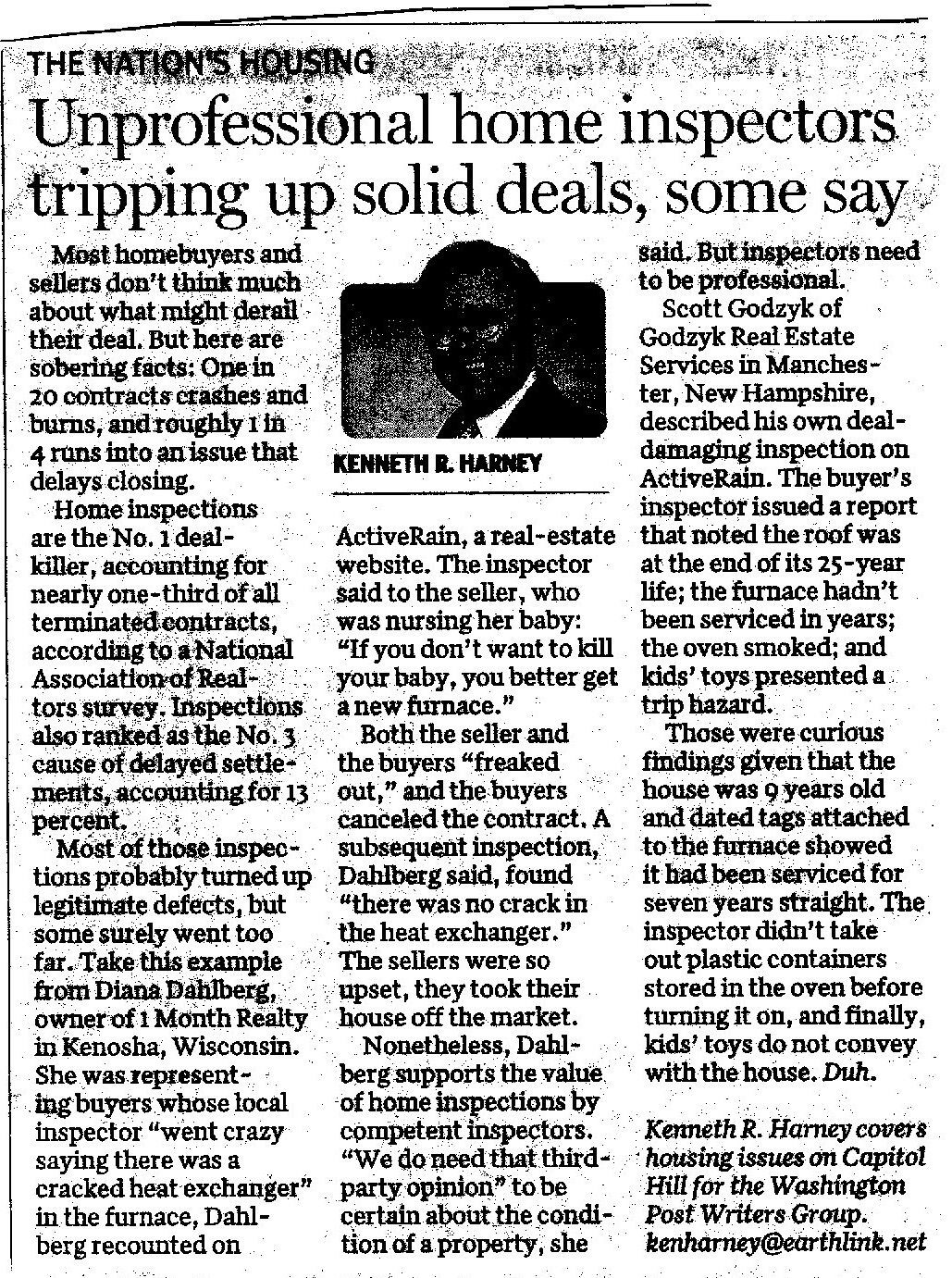 Combine the incorrect information with a slant that makes home inspectors look bad, and you end up with a lot of whipped-up home inspectors. And yes, you can put me in that group.
The article starts out by saying that 1 out of every 20 real estate sales contracts blows up, and nearly one-third of those are the result of the home inspection. In other words, maybe 1 out of 60, or approximately 1.6% of deals fall apart because of the home inspection. The article calls this a sobering fact, perhaps because this should sound like a high number, but it actually sounds low to me. The article then goes on to concede that most of these inspections probably turned up legitimate stuff. So that's a good thing, right?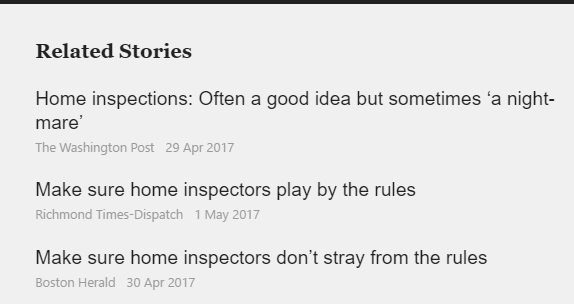 The next part of the article shares a couple of second-hand stories from bloggers about home inspectors who did some stupid stuff. Yep, you can find examples of bad apples in every trade and every profession. There's no getting around that.
That's where the first version of the article, shown above, ended. The second version of the article is the one that contains incorrect information about standards for home inspections. That's the version that got all of the shares. Here's one of them: Home inspectors need to play by rules. The screen shot at right shows a few more of the titles floating around.
For the record, there are two major organizations for home inspectors; the American Society of Home Inspectors (ASHI) and the International Association of Certified Home Inspectors (InterNACHI). I blogged about some of the differences between these organizations not too long ago: ASHI vs. InterNACHI.
InterNACHI and life expectancy
The second version of this article says "under widely recognized professional rules of conduct, inspectors are not supposed to "determine the life expectancy of any component or system." I have several things to clarify here. First, by "widely recognized professional rules of conduct," I'm assuming the inspector being quoted is referring to the InterNACHI Home Inspection Standards of Practice (SOP), as these standards are referenced later on in the article. Second, the InterNACHI SOP says, under section 2.2.I.A: The inspector is not required to determine: the service life expectancy of any component or system.
So does this mean that home inspectors who choose to follow these standards are "not playing by the rules" if they report stuff that's at the end of its life? No. Does it mean that home inspectors are "not supposed to" report on systems and components that are at the end of their life, as stated in the article? Absolutely not.
According to Nick Gromicko, founder of InterNACHI, the InterNACHI SOP does not prevent a home inspector from reporting on components that are at the end of their life. The standards simply do not require a home inspector to do this. If a home inspector decides to do this, they're still "playing by the rules".
ASHI and life expectancy
The ASHI Standard of Practice (SOP) actually requires home inspectors to report on life expectancy. Section 2.2.B.1 of the ASHI SOP says that the inspector shall report "those systems and components inspected that, in the professional judgment of the inspector, are not functioning properly, significantly deficient, unsafe, or are near the end of their service lives".
So there's that. The article implies that it's wrong for home inspectors to report on components that are at or near the end of their service life, but that's not accurate. One association doesn't require it, the other does. Neither says "don't do this." The whole basis of the article is flawed.
SOPs are not a ceiling
I see constant debates on home inspector forums where home inspectors argue that "home inspectors aren't supposed to this" and "home inspectors aren't allowed to do that". It all comes down to a complete and embarrassing lack of understanding of their (our) very own job duties. Home inspection SOPs are minimums. They're the floor that you start from, not the ceiling you reach.
Contrary to the many titles of this story, home inspectors are still following their SOP when they do more than the minimum. When hiring a home inspector, look for the best home inspector that you can possibly find; not someone who does the absolute minimum with the belief that it's the maximum. Look for a home inspector with great online reviews, and look for a home inspector with an excellent inspection report. More on that topic here: How to find a great home inspector.
Author: Reuben Saltzman, Structure Tech Home Inspections