We recently inspected a new construction, custom built home in Edina.  We did a team inspection at this property, where Neil, Duane, and I all inspected the house at the same time.  We really went over this house with a fine tooth comb, but we didn't come up with much that was wrong – it was a very well built home.  Towards the end of the inspection, we asked the buyer if they would mind us opening up the attic access panel, which had been sprayed shut.  The buyer was fine with that, as most buyers are.  What we found was quite surprising.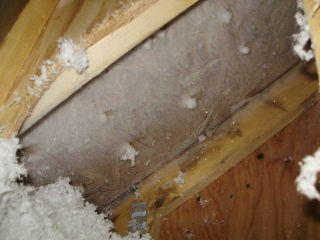 The builder had taken all of the necessary steps to seal all of the bypasses to the attic,  by doing something most builders never do.  Before blowing in loose-fill fiberglass insulation, he had a company spray foam the 'lid' to really make sure that any potential bypasses to the attic would be completely sealed.  This isn't required, but it's a great idea.  Unfortunately, the person doing the insulation had missed a few areas, and this allowed a ton of frost in to the attic!
The builder was very glad we found this, and quickly had the insulation company back out to re-insulate the areas that were missed.  This is a great example of why it's so important to break the attic access seal, and why it's so important to have even new construction homes inspected, no matter how good the builder is.
The best builders will encourage their buyers to have private home inspections performed, and they'll welcome any feedback from home inspectors.  This will not only prove to the buyer what a good house they're buying, but can also save the builder from major potential problems in the future.
Reuben Saltzman, Structure Tech Home Inspections – Email – Edina Home Inspections