By far, the most common appliance installation defect that I find while inspecting both new and old homes is a missing anti-tip bracket at the range.  An anti-tip bracket is a device that is installed at the floor below the range or on the wall behind the range to keep it from tipping over.   Anti-tip brackets have been used on ranges since the late 1980s, and became mandatory in 1991.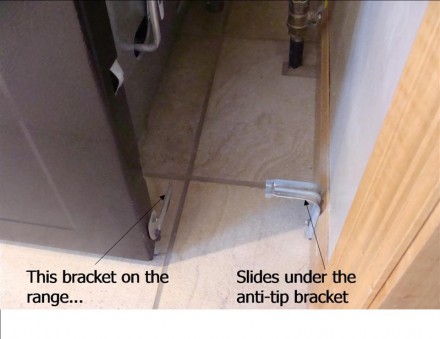 The most common way for ranges to tip over is by a child trying to climb on the open door, but it can also happen to adults who try to use the oven door as a step ladder, or try other dumb… tricks.  In the video below, someone forgot to install their anti-tip bracket.
I've had many clients mention something about Darwin to me when I bring up anti-tip brackets, but hey, the same could be said about a lot of safety features that we have in our homes.
To check your range to see if an anti-tip bracket has been properly installed, either look behind the range to see if it's there, or carefully tip the range forward to see if a bracket keeps it from tipping forward more than about 2".  If you don't have an anti-tip bracket installed, then your bracket has probably been thrown away – I happen to know that this happens most of the time.  To obtain a replacement bracket for your range, contact the manufacturer.  Click here for a list of phone numbers.
To read more about the number of deaths and injuries caused by ranges tipping over, and a huge settlement against Sears, click here http://www.citizen.org/pressroom/pressroomredirect.cfm?ID=2611
Reuben Saltzman, Structure Tech Home Inspections – Email – Minnesota Home Inspector