This is bad news for the manufacturers of Corrugated Stainless Steel Tubing (CSST).  CSST is a relatively new type of gas piping that has rapidly been replacing traditional gas piping in homes throughout America.  To learn more about this product, check out my blog about CSST.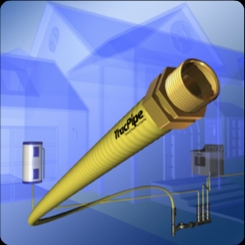 Key points of this landmark case:
Omegaflex's TracPipe was installed in a home in 1998
A nearby lightning strike in June of 2007 caused the product to fail
The manufacturer tried to say that "a properly bonded CSST system could withstand the energy produced from an indirect lightning strike."
The manufacturer failed to test their product's ability to stand up to a lightning strike.
The jury found TracPipe CSST to be a defective product
To see the full story, click here.
What this means for the future of CSST: This may be the end of traditional CSST.  As far as I know, CSST is the same product from manufacturer to manufacturer.  If this particular brand of CSST was found to be defective, the other major manufacturers of CSST must be scared as hell right now.  I visited TracPipe's web site, and I found that they're actually making a new version of CSST called CounterStrike®, which is supposed to be much more resistant to the effects of lightning strikes.  They obviously know they have a major problem on their hands with traditional CSST.
What if you own CSST? If you have CSST in your home, make sure it's properly bonded. The major manufacturers of CSST claim that properly bonding CSST will lower the risk of damage from a nearby lightning strike.   Is there any truth in this?  I've heard differing opinions, and I've been told that bonding is intended to provide protection against shocks, not lightning strikes.
When I inspect homes with CSST, I make sure the material has been properly bonded, and I write it up as a defect if not.  I won't be calling out the product itself as 'defective' just yet, but I will be telling my clients about the potential problems with this product, and I'll be linking to this blog post in my inspection reports.
Reuben Saltzman, Structure Tech Home Inspections – Email – Minneapolis Home Inspections