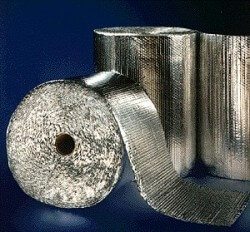 Last week I received an email from a concerned reader who said his 85-year-old mother-in-law had recently purchased a $2,500 radiant barrier insulation system for her 1,800 sf townhouse in Austin, MN.   She was convinced that this was a good investment after attending a free dinner, wherein the effectiveness of radiant barriers in Minnesota was highly exaggerated.  The system was installed two days after she signed the contract.
Radiant barriers are essentially bubble wrap covered with foil on both sides.  The material is sold in rolls, and is quite easy to install.  The problem with this product is that it only works to prevent radiant heat transfer; it does nothing to prevent convective heat transfer, conductive heat transfer, or air leakage in attics.  Can you guess how much heat is lost in Minnesota attics due to radiation?  I'm no engineer, so I can't give you any hard numbers… but I know the answer is very close to nothing.  In other words, the value of a radiant barrier in a Minnesota attic is very close to nothing.
I immediately wrote this concerned reader back, telling him this system was a waste of money.  Two days after that email exchange, the Minnesota Department of Commerce issued a consumer alert warning about these types of insulation systems, saying the exact same thing.  They're a waste of money.
Oak Ridge National Laboratory has concluded that radiant barriers will give an average Minnesota home some savings in energy – somewhere around $10 – $40 per year, assuming the home has ductwork in the attic.  The problem with applying this generous savings model to Minnesota homes is that most Minnesota homes don't have ductwork in the attic.  With no ductwork in the attic, the average annual savings would drop to about $5 per year.
If you want to improve the insulation in your attic, hire a reputable insulation contractor from Minnesota.
Reuben Saltzman, Structure Tech Home Inspections – Email – Minnesota Home Inspector