As of January 1st of 2014, there are new requirements for home sellers in Minnesota regarding radon disclosure.  The old disclosure form that home sellers would fill out just asked if there were any environmental concerns with radon, and the sellers would check yes or no.  It couldn't get any more basic.

If the home hadn't been tested for radon, the answer would of  course be "no".  End of story.
The new Minnesota Radon Awareness Act requires sellers to give home buyers a lot more information about radon, including whether or not tests have been performed, the most recent test results, any details pertaining to radon reduction or mitigation systems, a warning about radon, and a copy of the Minnesota Department of Health publication titled "Radon in Real Estate Transactions".
Whew.  That's a lot of stuff.  Here's what the radon section in the new disclosure form looks like: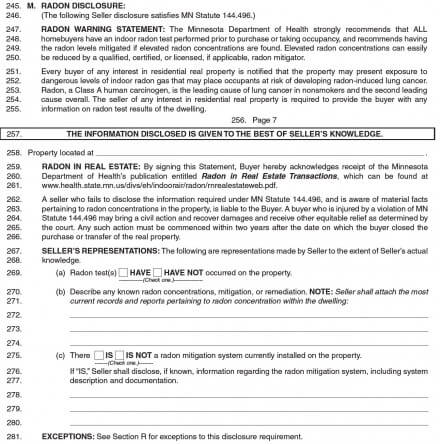 With the new Radon Awareness Act, radon testing in Minnesota is going to become much more common in real estate transactions.  In 2013, we conducted radon tests for approximately one out of every three buyers inspections; the number will probably increase to at least one in two for 2014.
If you're buying a home, hire a professional to test it for radon.  Don't go with the sellers results.  I had an almost comical situation occur this fall when a buyer hired us to conduct a radon test along with our home inspection.  The seller acted very insulted because she had already conducted a radon test on her own, "proving" that radon levels in her home were low.  After some conversation with the seller, it seemed quite obvious that she had placed the do-it-yourself test on the second floor of her home and the windows were probably open when she conducted the test, making the test results worthless.  It was no surprise to us when the radon results came back high.
To test your own home for radon, simply purchase a do-it-yourself test kit and follow the instructions.  Short-term tests can be purchased online for $7.95 at http://www.radon.com/sub/mn/.  Don't bother calling a home inspection company like us; our tests are geared for real estate transactions, where the testing needs to be done quickly by a third party professional.
Click these links for more information:
Author: Reuben Saltzman, Structure Tech Home Inspections